Coding Bootcamp Comparison
Coding Bootcamps have been all the rage recently, so we thought it'd be a great time for us to compare some of the most popular coding bootcamps available. With this, you'll have a better idea of what your options are and what to consider as you research.
If you're looking for something that's inexpensive, flexible, offers a variety of curriculums, and most importantly, 1-on-1 help, we've partnered with Udemy to bring you Codementor's Online Coding Courses.
For bootcamps near you, check out our complete list of coding bootcamps in:
Portland | Seattle | Austin | New York City | Los Angeles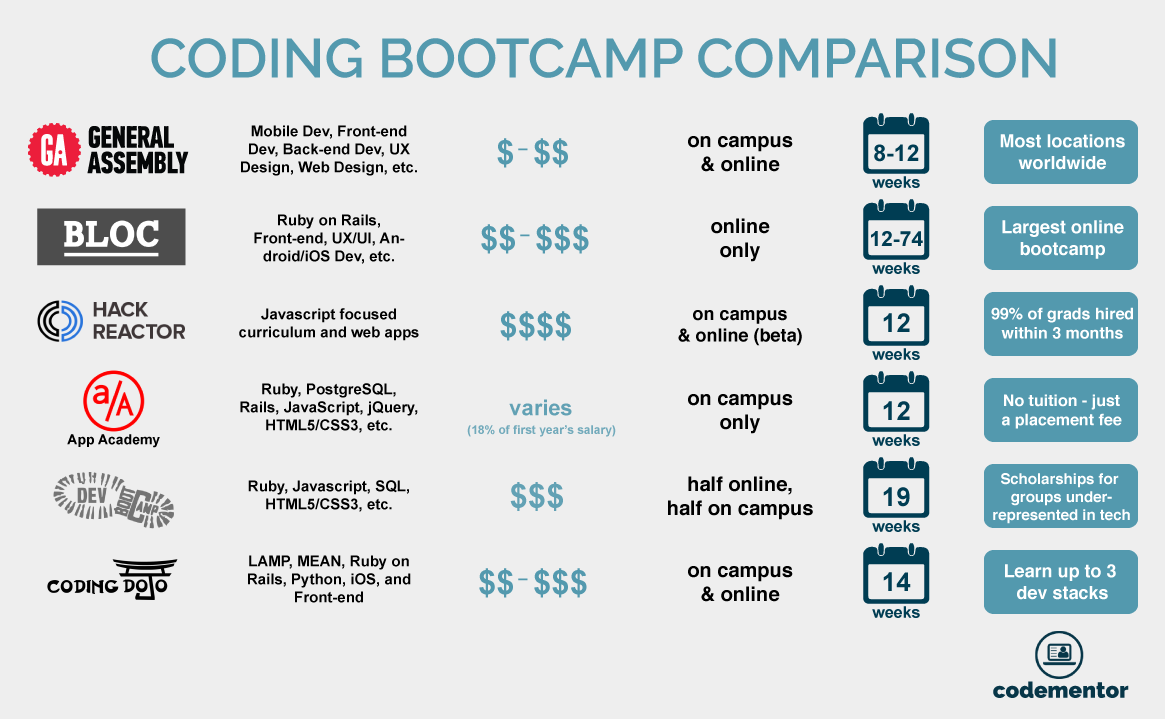 General Assembly

General Assembly offers a large range of bootcamps for aspiring developers, designers, and other fields. They offer a mix of full-time and part-time bootcamps catering to both students and those with full-time jobs. What's great about General Assembly is that they currently hold classes at 19 locations worldwide along with a Web Design course online.
Admission Requirements: Most courses do not require previous experience
Courses offered: Mobile/Front-end/Back-end Dev, UX Design, etc.
Cost in USD (as of 7/2015): $3,500-4,800 (on-campus) & $1,600 (online)
Locations: 19 offices worldwide including San Francisco, New York, London, Hong Kong, and Sydney
Duration: 8-12 weeks

Bloc
Bloc is another well-known player in the coding bootcamp playing field, and boasts "the world's largest online bootcamp". They offer 5 courses and 2 tracks (full stack developer and designer) and cover the high-demand programming languages. Many Bloc graduates have expressed their satisfaction with their experience, saying that it is ideal for those who do not have access to on-campus bootcamps.
Admission Requirements: No experience required; prep work is encouraged
Courses offered: Ruby on Rails, Front-end, UX/UI, Android/iOS, etc.
Cost: $4,999-9,500
Locations: Online only
Duration: Bloc offers 3 paces (see FAQ) which range from 12-72 weeks

Hack Reactor

Hack Reactor is one of the most intensive and highly selective coding bootcamps available. That's why, a whopping 99% of their graduates have indicated that they found a job within 3 months after completing their program. Many Hack Reactor alumni graduates leave feeling like they've earned a Computer Science degree — and so do many companies.
Admission Requirements: Experience not required but some experience with writing code is encouraged
Courses offered: JavaScript focused curriculum and web apps
Cost: $17,780
Locations: San Francisco, CA
Duration: 12 weeks
App Academy

App Academy aims to train their students with all the tools they need for front and back end. They offer an interesting payment structure from the rest — they don't charge tuition. Instead, you are asked to first provide a $5,000 refundable deposit, and after the program, you are asked to pay a placement fee (18% of your 1st year salary) if you find a job.
Admission Requirements: The ability to do simple coding exercises
Courses offered: Ruby, PostgreSQL, Rails, JavaScript, jQuery, HTML5/CSS3, etc.
Cost: Varies (18% of first year's salary)
Locations: San Francisco, CA and New York, NY
Duration: 12 weeks

Dev Bootcamp

Unlike most on-campus bootcamps that are 12 weeks long, Dev Bootcamp's 19 week program is half remote, half immersive, with a 1 week optional career prep. They are the first immersive coding school and their curriculum focuses on holistic learning and effective learning through coding challenges. They also offer $500 scholarships for those who are underrepresented in tech (more details here).
Admission Requirements: No experience required
Courses offered: Ruby, JavaScript, SQL, HTML5/CSS3, etc.
Cost: $12,700-13,950
Locations: San Francisco, CA, New York, NY, and Chicago, IL
Duration: 19 weeks

Coding Dojo

Coding Dojo is all about training their students to become developers with versatility. In their "on-site flex" bootcamp, students choose a total of 3 development stacks that they want to master, including Python and MEAN, whereas most bootcamps may only focus on one (usually Ruby/Rails).
Admission Requirements: No experience required but expected to complete pre-bootcamp coursework
Courses offered: LAMP, MEAN, Ruby on Rails, Python, iOS, and Front-end
Cost: $5,000-12,500
Locations: Seattle, Los Angeles, and Silicon Valley
Duration: 14 weeks

Conclusion
With hundreds of coding bootcamps available today, make sure to find one that best fits your goals, schedule, and budget. Bootcamps are very intensive and often require a lot of time and money, therefore knowing your options is extremely important. For those of you who are debating between self-learning and bootcamps, here's an article to guide you on What is right for You: Bootcamp or Self-learning.
If a bootcamp does not fit your needs or you need additional help after completing one, Codementor 1:1 Mentorships can help you get ahead. Our Monthly program has helped people like Erica, land a job as a junior developer. Whether you are new to programming or ready to build your own app, we're ready to pair you with an expert developer dedicated to your goals.
For a more flexible alternative to bootcamps,
see our Online Coding Courses →
Questions about this tutorial? Get Live 1:1 help from Programming experts!
James Collin
Senior Full Stack Software Developer and R expert
I am 2010 graduate batch from Michigan State University having Bachelors degree in Mathematics. From then I have worked with a breadth of companies...
Hire this Expert
Suresh Atta
Sr Web and Java developer by profession, your friend by nature. ~1200 sessions so far.
Web and Java developer who loves to fix bugs. I believe in Karma and I believe in the quote "REAL PROGRAMMER'S EYE IS A DEBUGGER." **If I can't...
Hire this Expert