Coworking is the latest trend for workplace environments.
Not only does it offer entrepreneurs and freelancers an innovative alternative to the traditional office cubicle/coffee shop couch, it also gives them an opportunity to build up both their personal and professional networks.
Compared to the hefty costs of office rentals in the Bay Area, these spaces are much more affordable for entrepreneurs.
We researched and vetted all of San Francisco's coworking spaces and highlighted 11 locations to help you find your ideal working environment. Things we considered include membership pricing, amenities, sense of community, and the space's general vibe.
Check out the 11 locations (listed alphabetically) below — and find the perfect space you didn't even know you were looking for!
List of Coworking Spaces in San Francisco
BeSpoke
Source: BeSpoke
Coworking + Demos + Events? Perhaps not things people normally connect together, let alone happen in one place within a shopping center. But, think again!
Bespoke is a trifecta of demos, coworking, and event spaces strategically located together at Westfield San Francisco Centre — in the heart of downtown, where tech and retail marketplaces converge.
This land of possibility gives individuals access to 20 million visitors and 200 world-class shops/eateries! Want to join a curated community of retail-tech entrepreneurs and brands to outshine your competition? This San Francisco coworking space might just be the place for you!
Day Pass: $35/day
Shared Desk: $395/month
Dedicated Desk: $610/month
Private Office: prices vary
"Can't beat this combination of value, location, and facilities" ~Michael H.
"The good: great location, great people .. food is right there as well as anything you may want to buy. The bad: horrible internet speed...expensive location" ~Mike T.
Eco-systm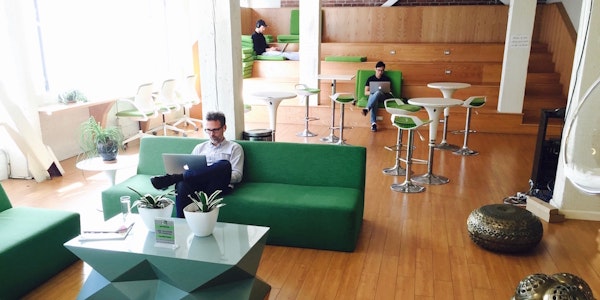 Source: Eco-systm
Looking for a space that speaks to your inner eco-personality? Well, Eco-systm's bright, beautiful, spacious environment and seating layout (both standing and sitting) might be just your cup of tea!
The space frequently switches up its modern high-end art pieces on their kitchen and workplace's walls — great for resting your tired eyes. For hard workers who need a break from sitting inside, Eco-systm also provides a patio for those who want to soak up some sun.
If you're also looking for a coworking space in San Francisco that allows you to bring your furry friends along, then Eco-systm's pet-friendly policy is purr-fect for your pet!
Virtual Office: starting at $60/month
Dedicated & Open Desk: starting at $400/month
Private Suites: starting at $1400/month
"Space is booming with forward thinking energy. The compound is central, clean and keeps improving every time I visit" ~Jonathan C.
"Such a great space to work and play in. A very relaxed and community centered coworking space. I really dig the diverse crowd of business and people" ~Jay W.
Galvanize
Source: Galvanize
Looking for a San Francisco coworking space that stands out from the usual coworking environment? If so, then Galvanize's intensive hands-on learning hub and talent sourcing platform might interest you!
Galvanize is a learning community for technology, and is home to students, startups, investors, mentors, and anyone interested in improving their tech skills.
Galvanize believes in making education and growth accessible to all — especially underrepresented groups within the tech industry.
Seat: $550/month
Desk: $750/month
Suite: $3600/month
"Great looking workplace found in alley way that is currently under construction. What I find cool is that it's fairly high-tech with reserving private (tiny) rooms; you place your name, select a time slot, and you can see the reservation on a screen outside the room" ~Drew R.

"Such a great workspace … Such a great energy in the environment and people working on cool ideas all around you" ~Josh R.
Hacker Dojo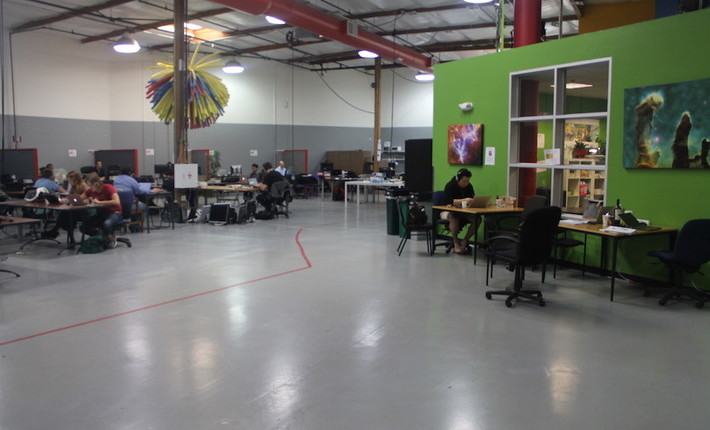 Source: Hacker Dojo
Need a coworking space in San Francisco with friendly prices but still offers a lot of great amenities? Hacker Dojo is probably one of the only places in the Bay Area with such flexible rates. They even offer student pricing!
Also, the location includes a social space with a gaming lounge, ping pong table, pool table, and more – great for those work-hard-play-harder!
Membership: $125/month
Dedicated Desk: $300/month
Hardship Rate: $60/month (for current full-time students only)
Lite Membership: $100/month (space usage during 5:00PM~9:00AM & Weekends)
Weekly: $50/week (trial rate)
Yearly Plan: $1,337/year ($5000 for Five Year Plan)
"Awesome space. If you are a developer and need some space to work and bounce ideas. You'd get it here" ~Carmen B.
"Awesome place to meet hackers and entrepreneurs and like-minded buddies" ~Sumit G.
HanaHaus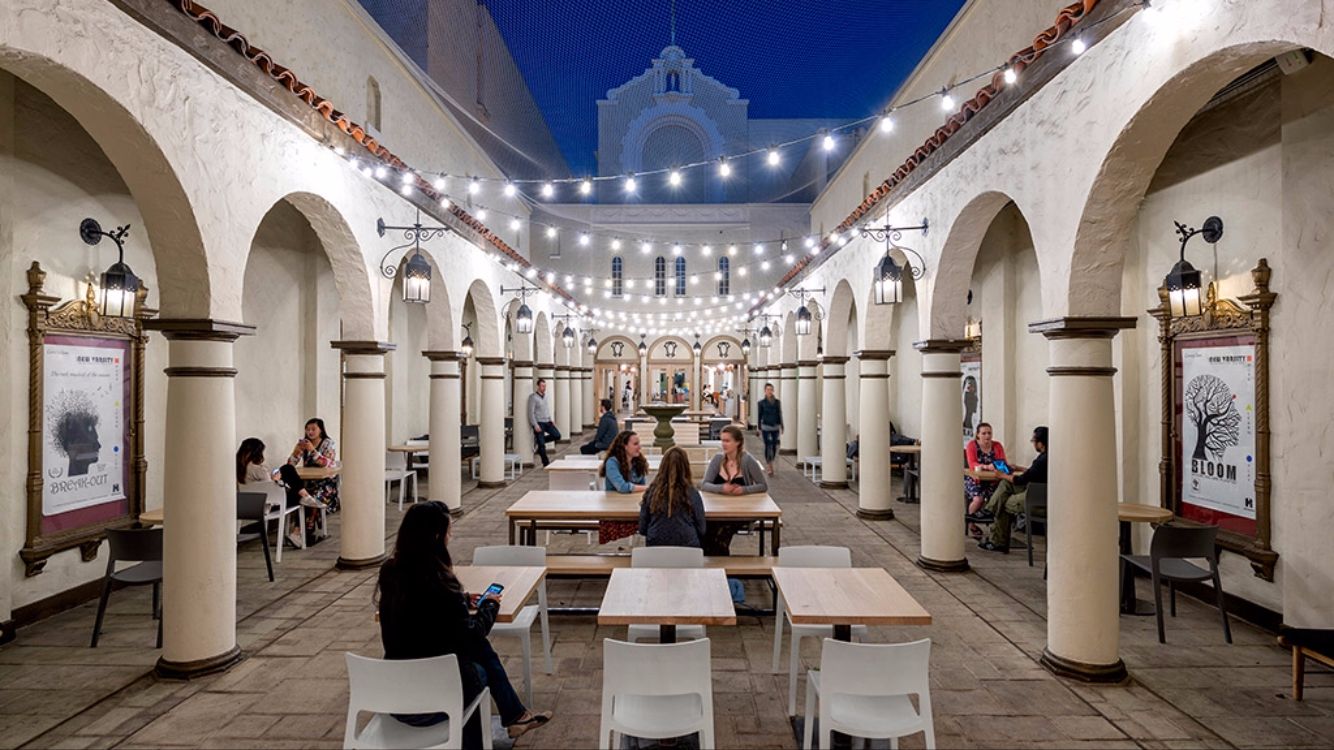 Source: HanaHaus
Still prefer working at a coffee shop for their refreshments? Well, why not add that to the bundle along with the chance to work with like-minded people? HanaHaus is a cafe and community workspace hybrid.
It is specifically designed for people to work, learn, and play while also offering the best of cafe culture with numerous add-on services and events. Best of all, their coworking space rates are as low as $3/hour!
Open Seating: $3/hour
Group Seating: $10/hour (4 seats) or $35/hour with a monitor
Private Seating (Quiet Room): $25/hour
Private Seating (Conference/Maker Room): $75/hour
"Great place to come with your team and collaborate in an open space. The noise level here was conversational which made it easy for me to work" ~Aj C.
"I like the atmosphere and work space option at Hanahaus. It's a great location to hold semi casual business meetings or if you need an affordable option for a quiet space or conference room" ~Anne D.
Port Workspaces
Source: Port Workspaces
Ahoy there! You might want to get onboard with Port Workspaces after reading about their features, because they're quite amazing.
Want to embrace the beautiful sunlight or take a break and socialize with fellow hustlers? Walk right up to their private rooftop terrace!
Feeling hungry or want to simply enjoy a beer as you code away? They have a kitchen with artisanal coffee, tea, and craft beers. They also have monthly member lunches, happy hours, and breakfasts!
Port Workspaces' best feature, however, is probably how global their coworking space is. Visiting Shanghai, Paris, Canada, or Bali anytime soon? Luckily for you, these cities are part of the 90 locations included in their League of Extraordinary Coworking Spaces (LExC).
Virtual: $100/month
Coworking: $250/month
Desk: $350/month
Team Space: $300/month
Private Office: starting at $1200/month
"Free coffee and tea, open/flex working area, and three levels (Kaiser Mall) to choose from" ~Anna D.
"A very good rate for unlimited access. A HUGE facility with all sorts of environments to work in and it doesn't feel at all crowded" ~Cory N.
RocketSpace
Source: RocketSpace
RocketSpace is the living embodiment of "birds of a feather flock together." This San Francisco coworking space was founded by tech entrepreneurs who understood the importance of surrounding their teams with the best resources.
That key philosophy birthed RocketSpace – a high-quality, curated tech community that offers the ultimate flexibility to rapidly growing startups. Microsoft, PWC, Samsung, Nike, and many others are also part of this coworking community.
In light of the presence of these power players, RocketSpace may be the best place to connect with key investors, mentors, and advisors!
Price varies from $300-$1050/month for Hot Desk, Dedicated Desk, and Private Office
"Down to earth yet sophisticated. A place to GSD. Ask and you shall find. World class mentors. Real connections" ~ Bonny M.
"Where startups and corporates unite! A great place to work and do business" ~Myles W.
Sandbox Suites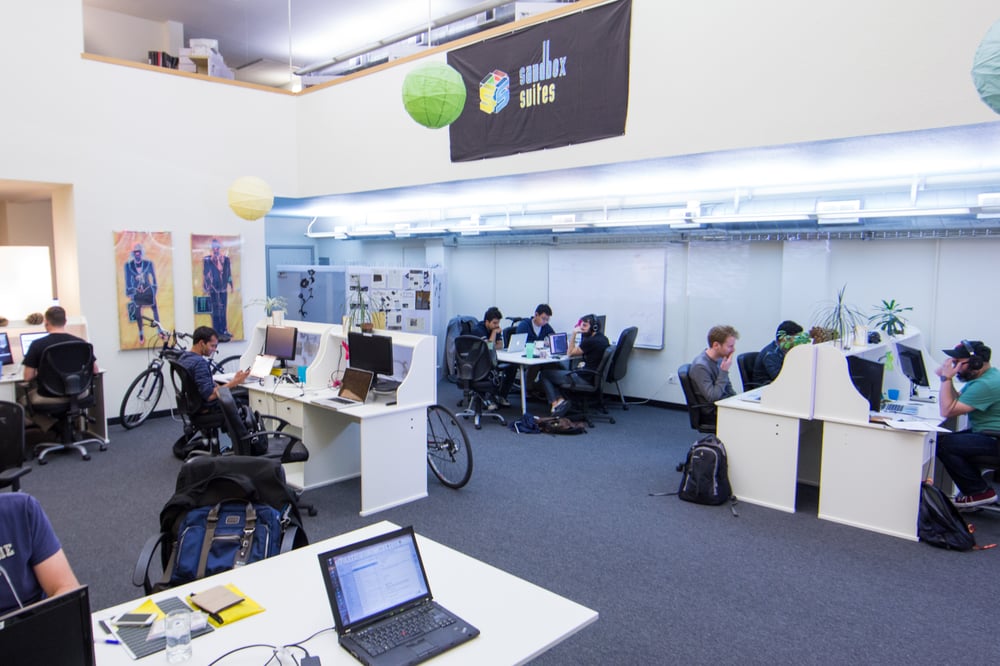 Source: Sandbox Suites
Not a big fan of looking outside the same window, or finding it hard to keep your wings from flying off to new locations?
Sandbox is the perfect coworking space for digital nomads and freedom-loving entrepreneurs. They have five convenient spots located in San Francisco, Berkeley, and Palo Alto ready for you to get hustling.
Notably, their Frequent Flyer membership plan provides you with 24/7/365 access to one home base location, and 9AM-6PM access on weekdays to all other locations. Ain't that sweet?
Virtual Office: $75/month
Frequent Flyer: $200/month
Second Home: starting at $525/month
"They really make sure you have everything you need to be productive" ~Sabrina B.
"I would recommend sandbox suites to someone that is looking for a shared workspace that is not pretentious and has an overall friendly vibe" ~Laney S.
The Pad

Source: The Pad
You know what's more attractive than a great coworking environment? A coworking space with an easily accessible parking lot and bike storage.
It can be demotivating leaving your house with the thought of spending 20 minutes finding parking weighing heavily on your mind. Luckily, The Pad has a large parking lot and secure bike storage right in front of its building.
Additionally, this San Francisco coworking space provides add-on services that simplify your work agenda. For example, daily lunch delivery right to your desk — yum!
Day Passes: $20/day
Flex Desk: $250/month
Dedicated Desk: $450/month
Private Office: $1450/month
"Super cool coworking space. They've really thought through what startups and bigger companies want. Have a daily food van, thirty Thursdays, and caltrain is 20 mins shuttle away" ~Paul C.
"Gorgeous, light-filled quiet space with tons of room and lots of options for types of desks … Individual pods are available for conference calls so you don't bother everyone else" ~Jill R.
WeWork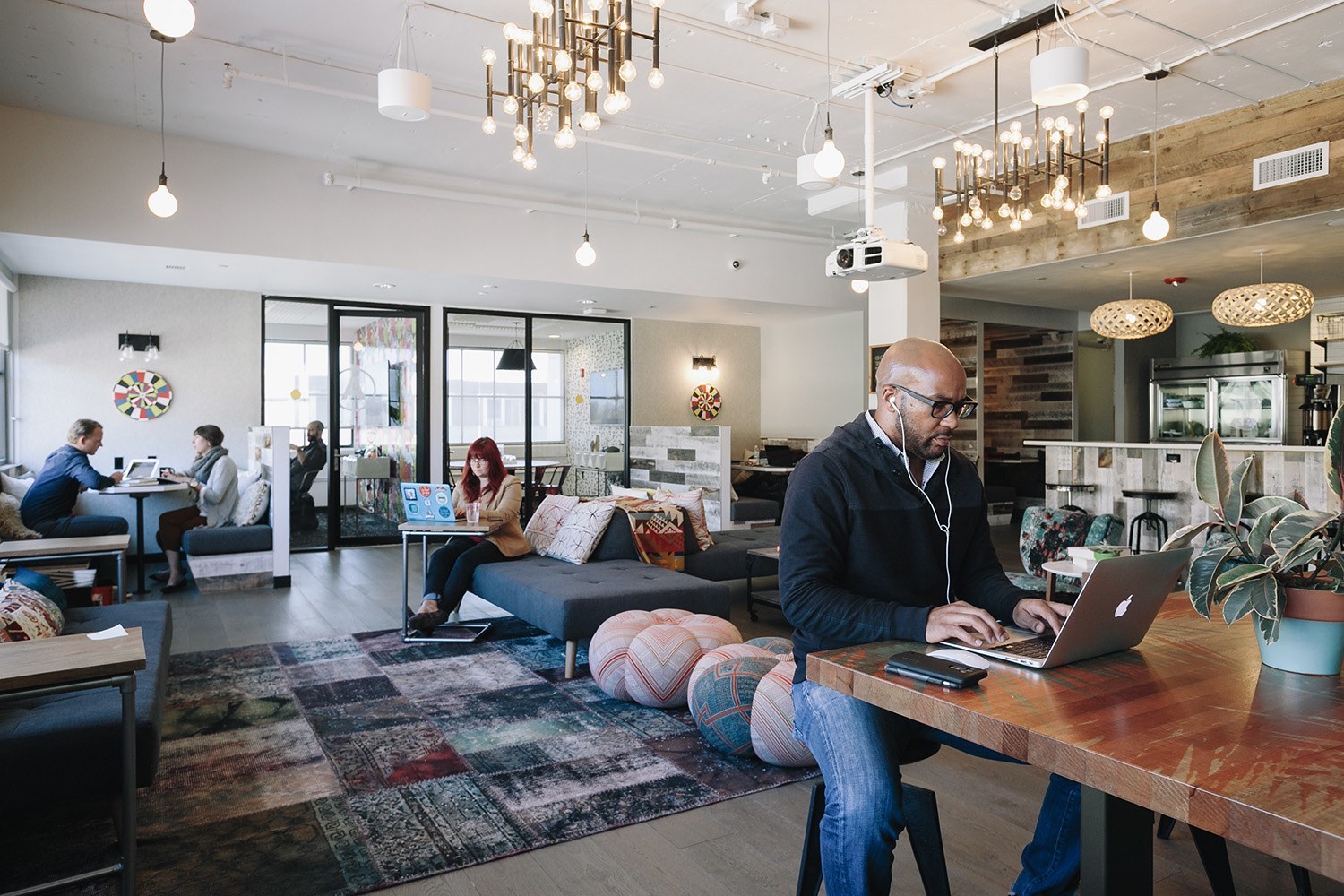 Source: WeWork
What's more convenient than having a coworking space with multiple locations in a city for you to choose from? WeWork has 203 office locations across 50 cities - and they're still growing! There are currently 11 WeWork coworking spaces in San Francisco alone.
In other words, there are 11 coworking spaces in San Francisco for you to migrate to whenever you're looking for a breath of fresh air. Best of all, they have one of the best rates in town!
On-Demand: starting at $45/month
Hot Desk: starting at $220/month
Dedicated Desk: starting at $350/month
Private Office: starting $40/month
"The facilities, location, and costs have been perfect for us as we've grown our business" ~Gayle A.
"I feel confident bringing any client to the conference room or the space in general" ~Alex K.
White House San Francisco
Source: White House San Francisco
Looking for a space that's exclusive and only for women? Look no further, because here comes the White House San Francisco to the rescue.
The century-old mansion, located in the heart of Treasure Island, is now the creative coworking space and social club for entrepreneurial women making history!
Aside from the usual amenities and services provided, the White House San Francisco also organizes fun activities for yogis and hikers.
Loyal Subscriber: $40/month (pay 6 months upfront and cowork for only $35/day)
Favourite Guest (4 days plan): $120/month (pay 6 months upfront and cowork for only $25/day)
Favourite Guest (8 days plan): $200/month (pay 6 months upfront and cowork for only $35/day)
Hosting Member: $450/month (pay 6 months upfront and cowork for only $15/day)
"Unique coworking space that's comfortable and very cozy" ~Jessica K.
"Beautiful house, stunning location, dedicated and driven entrepreneurs, and worthwhile perks. This is a great place to work on your business" ~Tracey M.
Conclusion
Coworking has been the go-to workplace environment for many freelancers and entrepreneurs. Many of these locations in San Francisco go above and beyond basic workplace amenities.
Some come with shower rooms, food delivery, or rooftop gardens, while others have a bouldering wall or a shopping mall below. It's quite incredible!
However, the one thing that all of these coworking spaces have in common is the accessibility to mentors, investors, and other like-minded individuals.
Depending on what you're looking for in a coworking space, one of these 11 locations might be the perfect fit for you.
Keep us updated on your coworking space experiences in San Francisco, and share your favorites in the comments section!
Don't live in San Francisco? Check out coworking spaces in New York here!