One thing Hannah Chaplin has learned from running two successful SaaS companies is that your customers should guide new feature development and prioritization. The trick? Listen to the right customers. How? Figure out your company's trajectory and prioritize the customers that best fit it.
That's how Chaplin and her co-founder Dan Dukeson run Receptive, their customer feedback management system, which has grown to over 780,000 users across hundreds of companies since launching in late 2014.
We spoke to Chaplin about the mistakes they made in their previous company that led to Receptive, the strategy they created for managing customer feedback and feature requests, and all the learnings they've accumulated helping their customers.
Note: If you're looking for rockstar developers to build features for your own app, chat with our CodementorX team at about getting introduced to one of our vetted, experienced developers here.
Mistakes They Made: Prioritizing Features Based on "A Few Noisy Customers"
While running their previous company, a software startup which managed company stocks, they learned the hard way that it doesn't take long for a growing business to become overwhelmed with feature requests. By the time they reached a customer base of forty to fifty companies, they were getting just as many feature requests a week as they had customers.
With so much feedback coming in, they weren't sure who to listen to. "You can end up having a lot of noisy demanding customers which drown out other voices," Chaplin said.
They also found themselves prioritizing the needs of one client in particular. "They were paying us the most, and so we felt we should listen to them more, and that meant we started creating features to solve their specific problem, and if you want to grow and scale a business, that isn't the best way to go about it."
But the loudest or even the biggest clients at one point in time might not be your ideal customers moving forward. "They're not necessarily the customers you should be listening to based on where you need to take the product."
Even though Chaplin's company wanted to take on more enterprise-level clients, they treated feedback from small businesses and larger companies alike. Without a system in place to sort feedback according to business type, they found it difficult to know which requests were coming from their ideal client base.
Not knowing which feedback to prioritize, they struggled to tell the difference between the nice-to-have features versus the necessities. "It can be very frustrating because you don't understand which features are going to have the biggest impact. You can't understand what you should be building."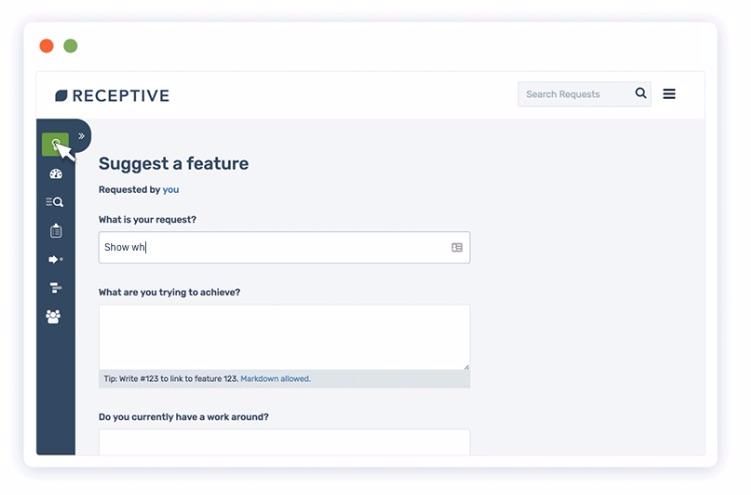 Chaplin and her cofounder built Receptive.io, a feature prioritization software platform.
The two developers/founders saw an opportunity to develop a solution that would help manage all of it. So they built Receptive as an in-house fix and quickly realized that what worked for them could work for others. And since launching Receptive as its own product, they've been helping save their customers a ton of time (as much as 50 hours a month).
Between managing their own product and what they've learned from their customers, Receptive founders believe it takes more than an application to successfully manage feature requests: you also need a strategy. Three parts of their strategy include:
Prioritizing their ideal customer base

Comparing feedback to their company's "Product Strategy"

Using a public roadmap to keep everyone on the same page
Which Customers To Listen To
Who are your ideal users? Once you've targeted which customer base you want to grow, you know whose requests to prioritize. "If you're building for enterprise businesses," Chaplin explained, "and you have a load of feature requests and feedback from smaller sized users — maybe you've started to move upstream — then naturally you'd want to listen to the requests from enterprises more closely than these tiny customers."
They followed their own in advice when, in January, they heard a lot of complaints around their user interface. They went into their system and selected only complaints and requests from enterprise customers, because that is the segment they are targeting as they scale the company. "That gave us a prioritized list of requirements," Chaplin said.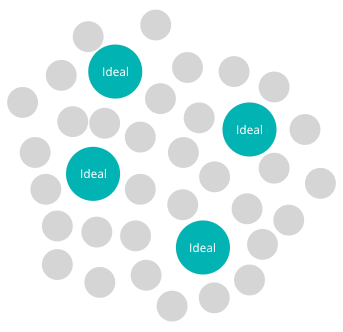 Learn to filter out feature requests from your ideal customers, Chaplin says.
This process was easy for them because they built Receptive with the ability to segment the data according to customer type, but you could do the same even by sorting responses in a spreadsheet.
Let Your Ideal Customers Help Prioritize Features
Chaplin's advice to businesses is also to let your customers set their own prioritization of new features instead of relying solely on product managers.
A lot of companies use product managers to prioritize features. They rely on a single human being to use their intuition to decide which features ship. But, "there can be lots of problems with that," Chaplin explained. "There can be bias and your own agenda, and influence from people around you. So we teach that prioritization shouldn't happen with a single person in your organization, it should be an ongoing process with your prospects and your customers as well."
When customers enter requests into Receptive, they set their own priority level of the issue. Receptive's product team then compares these requests — as well as feedback from prospective customers and internal team members — to their overarching Product Strategy guided by the company's primary objectives.
What feature requests and improvements best match your vision of the company?
The Product Strategy needs to come first. "If you don't have that strong foundation and vision for the business or for the product, then you have absolutely no reference. You can have all the data in the world, but it won't make a difference if you don't have that reference point in your company."
With an overarching strategy in place, you can let your customers decide what features and improvements within that strategy matter most.
"If you get to the point where people are prioritizing for you, then it allows you as a product manager or a business owner to prioritize at a higher level. You can take that data and help inform your decisions rather than you doing the lower level prioritization."
Why Your Priorities Need to Change Along with Your Customers
Gaining customer feedback isn't a one and done deal. Client's priorities change. As a company, you have to be able to take in their changing demands and adjust your development queue accordingly, knowing when to make room for genuinely important requests and when a request is a nice-to-have.
Just asking people to prioritize, no matter what mechanism you use, makes them think about what actually is important. Whether you're in customer success or support or product, the goal is to make sure you're addressing those top pain points for people, and not getting dragged down a rabbit hole of building nice-to-have requests.
She explained that allowing a client to continue to modify the priority level of their requests gives companies consistently up-to-date data. To manually do this, your customer success team can check in regularly with their customers and ask the priorities of their requests.
Be Transparent About Your Company's Goals
If you want your customers to grow along with the company, you have to be transparent about where you're taking it. To do this, Receptive's project strategy is integrated into a high-level customer facing roadmap.
Chaplin explains this helps keep customers excited about the company, and it also makes it easier to turn down feature requests that don't fit the overall vision.
"It sounds really simple but it absolutely works — if customers can see that you're making progress and actively developing your product, it really does become less transactional. They don't see a 'no' as a personal thing anymore."
This strategy is working for their customers, as well. Receptive customer Magnus Health, which manages medical records for students, maintains their own roadmap (a feature which is built into Receptive). They update the roadmap weekly on what they call "Feature Request Friday." According to Chaplin, the team spends a half an hour going through reports in the system and deciding which requests get added to their roadmap. This helps them understand more than just what their current customers are looking for.


The executive team of Magnus Health, one of Receptive's customers, that has implemented "Feature Request Friday" for their customers.
As an added bonus, the company has found insights into new markets and products based on their customer feedback. "They've uncovered loads of features that customers had used with other companies previously, so it was acting as a competitive research tool."
From discovering market insights to better understanding existing customers, Chaplin sees many benefits to using Receptive's customer feedback philosophy. But the biggest impact she's found for her own company and her users is how much time it saves when you let your customers drive your development. "The big side of this is that people aren't wasting the development time, the design time, the product team time — building features that aren't going to matter. They know that every single improvement they make to the product or feature that they pull out really is going to have an impact on growth. It's not going to be a feature that goes out and doesn't do anything useful for the customer or business."
Note: If you're looking for rockstar developers to build features for your own app, chat with our CodementorX team at about getting introduced to one of our vetted, experienced developers here.