Yehonathan Sharvit
Full-Stack and Functional Programming Expert.
$20.00
For every 15 minutes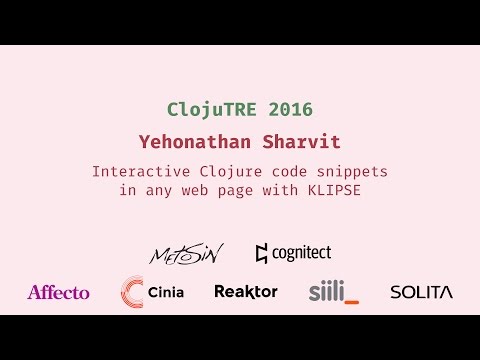 I have been a SW engineering since 2001. Full Stack Web programmer since 2009: javascript, node.js, ruby on rails, react, clojure have no secrets for me :) I have been in several leading roles in mid-size companies and startups: dev lead, team leader, project manager. I am very proficient in Agile methodologies, Kanban and Lean Startup. I have open source projects of my own. See for instance https://github.com/viebel/klipse with more that 1000 Github stars! I blog about my technical interests and discoveries at http://blog.klipse.tech/ Education: - B.Sc in Electronics - M.Sc in Mathematics
Github respositories
klipse
A simple client-side code evaluator pluggable on any web page: clojure, ruby, javascript, python, scheme, es2017, jsx, brainfuck, c++, reagent
kids.klipse.tech
An interactive functional programming course for children based on clojure and klipse
Average Rating
4.7
(3 ratings)
Yehonathan did an excellent job explaining to me how clojure/mount (defstate, reloading) works. I estimate his 12-minute tutorial saved me 2-3 hours of documentation reading / trying to sort out what clojure/mount does, how clojure/mount works, how it interacts with the repl.
Vast practical knowledge & easy to talk to, we didn't dig into the practical implementation details but I have a much better idea of the ecosystem and the approaches that work. Thanks for the mentoring!
Yehonathan helped me with some school work that I greatly struggled with. He is an excellent teacher and within 10 minutes had me through the hurdles that I struggled for hours with. He really knows the ins and outs of Clojure.