Yehonathan Sharvit
Full-Stack and Functional Programming Expert.
$20.00
For every 15 minutes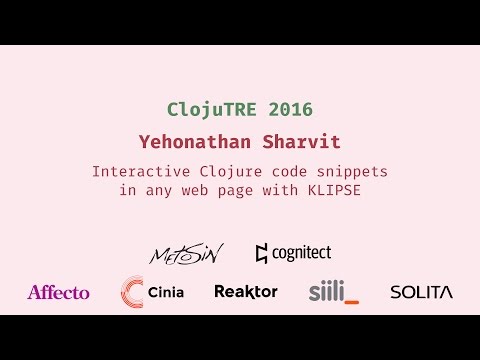 I have been a SW engineering since 2001. Full Stack Web programmer since 2009: javascript, node.js, ruby on rails, react, clojure have no secrets for me :) I have been in several leading roles in mid-size companies and startups: dev lead, team leader, project manager. I am very proficient in Agile methodologies, Kanban and Lean Startup. I have open source projects of my own. See for instance https://github.com/viebel/klipse with more that 1000 Github stars! I blog about my technical interests and discoveries at http://blog.klipse.tech/ Education: - B.Sc in Electronics - M.Sc in Mathematics
Github repositories
klipse
A simple client-side code evaluator pluggable on any web page: clojure, ruby, javascript, python, scheme, es2017, jsx, brainfuck, c++, reagent
kids.klipse.tech
An interactive functional programming course for children based on clojure and klipse
Average Rating
5.0
(4 ratings)
Very quick for small task.
Yehonathan help me to understand requirement and also help in each step wherever any server support or other help required. He can understand the complexity of Magento 2 and help me to fixed it out.
Yehonathan did an excellent job explaining to me how clojure/mount (defstate, reloading) works. I estimate his 12-minute tutorial saved me 2-3 hours of documentation reading / trying to sort out what clojure/mount does, how clojure/mount works, how it interacts with the repl.
Vast practical knowledge & easy to talk to, we didn't dig into the practical implementation details but I have a much better idea of the ecosystem and the approaches that work. Thanks for the mentoring!
Yehonathan helped me with some school work that I greatly struggled with. He is an excellent teacher and within 10 minutes had me through the hurdles that I struggled for hours with. He really knows the ins and outs of Clojure.