Five Things Every mHealth Developer Should Know

Every day mobile app developers come up with ideas that at first seem cool. But, for good or for ill, not all of those turn into game-changing solutions.
No matter the project you have in mind, you want it to be a success and bring real value. That's why it's paramount to pay particular attention to a number of issues that can make or break your app.
Develop your product with users in mind
One giant step you can take towards your app's future success is to avoid your personal preferences prevailing over your target audience's needs. Adopt a user-centric approach towards building a solution and try to put yourself in end-users' shoes.
Rather than thinking about your audience in general terms ("the users of my app will be physicians"), conduct a thorough analysis and define subgroups based on certain criteria:
● socio-demographic: gender, age, language, religion;
● geographic: particular countries, states, counties, locations, locales, etc.;
● psychographic: users' necessities, aspirations, thoughts, affairs.
You will also increase the chances for the overall success if you manage to understand the market conditions within the given area.
Think about getting a healthcare professional on board. Such subject-matter expert could help you with the audience analysis and share other healthcare-specific information: clinical processes, interaction with patients, and more. You can then use these valuable insights when working on other mHealth solutions.
To be able to receive relevant feedback, engage stakeholders in the process: conduct focus group discussions, interviews, workshops, and small group meetings.
Usability is king
After you have segmented your target audience and understood what users want, it's time to knuckle down taking into account some other important things.
Accessibility. The users of your mobile app may be elderly people experiencing such health problems as loss of vision clarity or myopia. To accommodate them, rely on a high color contrast, make sure things like font size are adjustable, and avoid excessive use of interactive elements.
Onboarding. Very few people like reading a lot of technical documentation merely to figure out how the things work. Try to spare them the need to turn to detailed usage instructions and strive to introduce your app in an unobtrusive manner.
For instance, if your product is designed to fulfil a set of simple actions (tracking physician appointments, calculating calories, controlling weight, or just communicating), a simple visual walkthrough will likely be enough: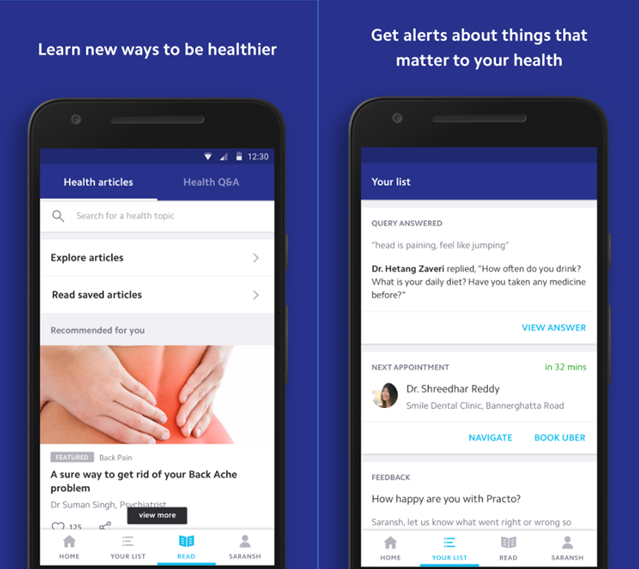 (Practo app)
Another option is applying an inline hinting technique: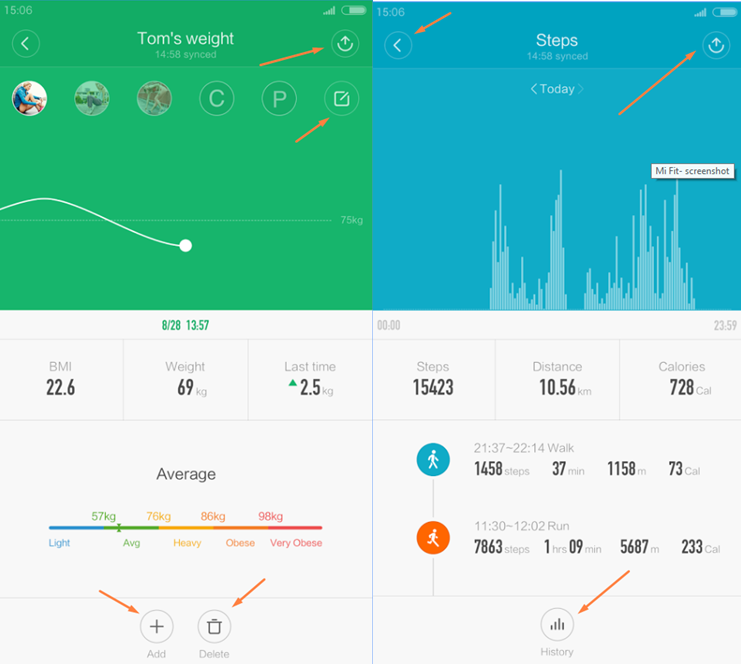 (Mi Fit app)
Usability testing. To help users be more productive, pinpoint possible confusion areas and address critical issues in advance. One of the ways to do that is to test your prototypes, i.e. to ask your target audience to fulfil certain tasks and observe their behavior.
You can give the following usability testing types a try:
● hallway testing: randomly selected people test your solution for common patterns;
● remote usability testing: people use your app distantly, in their natural environment, and you get results via recording software;
● expert review: qualified professionals evaluate your product's usability.
In line with official regulations
For mHealth developers, governmental regulations may become a nightmare. However, be patient and go through this long and complicated process of your product's approval. As a result, your app will comply with the relevant legal and regulatory systems and will not violate any of the officially established requirements.
EU and US approaches to health IT and mobile medical applications shed light on products' harmonized standards, technical requirements, reliability, security and bind you to respond to the emerging challenges, such as ageing population, citizens' expectations, or migration.
The international standard IEC 62304 is another thing you should pay attention to. This standard (valid in both the EU and US) explains details on architectural design, software requirements, implementation and verification, integration testing, launch, and maintenance.
If needed, delve into the specifics of local insurance policies. For example, a patient's medical insurance will cover remote video consultations in some American states, but not in others.
With security at the forefront
In today's interconnected world hackers' attacks and information breaches are increasingly commonplace. That's why it's vital to shut security holes in your app, protecting users' sensitive information: biometric data, monitoring information, diagnoses, medications, patient to doctor conversations, and more.
There's a number of official acts and institutions that will guide you towards enhancing your solution's security. The Health Insurance Portability and Accountability Act (HIPAA) comprises a broad range of security regulations to guarantee confidential data protection. Make sure your app is HIPAA-compliant and then follow the needed instructions to hold personal information safe.
When planning to launch your app in the USA, one more body you will probably have to consult is the Food and Drug Administration (FDA), responsible for evaluating the effectiveness of medical devices (including healthcare software). Dig into the examples of mobile apps that require FDA's enforcement discretion and check other useful information on this institution's regulations.
The Medicines and Healthcare products Regulatory Agency (MHRA) is the UK's analog of the FDA. Examine the body's requirements on mHealth solutions' creation and circulation if you plan to conquer this market.
Continuous quality assurance
Mobile app development is a dynamic process in which you get instant feedback from users. To immediately react to this feedback and address the changing requirements, employ the Agile methodology where QA and development go hand in hand. In this case you will be testing the product during each sprint and will be able to introduce new features faster and of higher quality.
The more thorough your testing is, the more chances of improving your app's performance you have. Therefore, consider several types of testing:
● functional: ensuring that the solution seamlessly performs all its functions;
● performance: testing CPU and GPU capacity under load, bandwidth and scalability testing, identifying and fixing performance bottlenecks;
● security: finding app's vulnerabilities (such as XSS, SQL injections, CSRF, and more) and preventing security breaches.
Bottom line
Mobile app development is a challenging process, and the healthcare sphere doesn't ease it at all.
To deliver an effective solution, put users' needs first, cut the red tape of official regulations, enhance your app's security, test its functionality and performance, and continue improving your product even after its release.
If you want to know more about the specifics of creating mHealth solutions, contact Oxagile and get relevant information.