Yad Konrad
Applied Research / Machine Learning
Average Rating
5.0
(28 ratings)
Mar 2016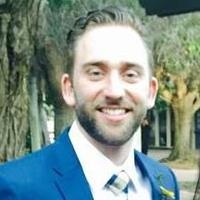 Yad was great! Looking forward to chatting with him again.
Nov 2015
Yad was awesome!..our session today was great! He solved an issue i was having completely and explained it clearly. Thanks Yad!...again!
Oct 2015
Another great session! Clear explanations and quick troubleshooting. Thanks again Yad!
Yad knows what he's talking about and he helped me with some tricky CS concepts. Thanks for your help.
Once again Yad has clearly and thoroughly explained how to implement a modern technique for me. He provides examples of code being used and then goes about implementing it in our project together. Yad is very knowledgable accross the board on many different topics. Thanks again!!
Yad is amazing!! He is friendly, easy to chat with and extremely knowledgeable. The way Yad explains things is clear and easy to understand. He breaks down the problem or build and then sets about guiding you through the steps involved in fixing them. He is up to date on modern techniques and practices. I couldn't recommend Yad more! Generally just an all round good guy! :)
Sep 2015
He was awesome! I ran into issues with my code, I was desperate to get an assignment turned in. My audio wasn't working, but he managed to pull through and teach my what I did wrong, gave helpful tips, and taught me things I have not learned in my class. Thank you!!!
Hi my name is ziv I really enjoyed Yad he really spend his time explaining me the problems I really recommend him
Aug 2015
Yad has the skills and patience to work through almost any problem. HIs dogged and relentless focus on a solution is akin to a Jedi knights mission to hit a small target on the death star while being hunted by the enemy. Me... in this scenario I was a wingman. I may not have been able to supply the skill but I was there the whole way navigating to a solution. For someone trying to learn to master a skill that's a perfect place to be.
Yad has a great attitude and the confidence behind it to make things happen.
Yad was very quick to diagnose my issue and super helpful. He makes things very clear and easy to understand. I'd recommend working with him and hope to do so again in the future! Thanks Yad!
An experienced developer that explains in a pace that everyone could understand. Showed me how to utilise jQuery plugins to create effects I needed. I would recommend Yad to anyone who needs help with HTML/CSS/Javascript, especially for beginners.
Jul 2015
Very helpful, will be an ongoing mentorship. Learned some quick tips and techniques that will help me in the future.
Very Knowledgable and super helpful! Helped me understand what I was missing
Great guidance and ideas that will be useful well beyond the specific issue I was having.