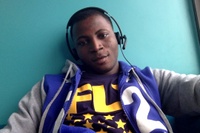 Etanuwoma Jude
Am an experienced software programmer having several years experience in the industry, and a strong educational background featuring a degree in Computer Science. I possess excellent communication skills and can liaise effectively with both clients and work colleagues. Other strong points include an ability to work as part of a team or individually, multi-task, prioritize and work to deadlines under pressure.  My software developing expertise includes: Strong database knowledge specifically MySQL and querying database. Extensive knowledge of JavaScript/Nodejs, PHP for backend development Extensive knowledge of JavaScript, React/redux, CSS and (X) HTML, Nodejs for interactive web applications Software development using JAVA, JAVAFX
Creating a simple REST API with expressJS in 5min
Creating a simple REST API with expressJS in 5min
30 useful tools and libraries for saving your time as a web developer
In this article I simply want to share a list of tools I find useful for speeding up a developer's workflow. Some have probably seen most of these, but I'm glad if someone discovers something new...
Things to note while writing functional programming
Avoiding mutable state Functional programming will help you avoid most of the errors caused by having an unmanageable amount of mutable state in your code. In general, it's useful to carefully...