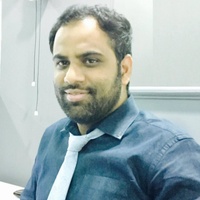 Vivek Khatri
Magento 1 | Magento 2 | Laravel | Wordpress | PHP developer at Emizen tech Pvt Ltd
$15.00
For every 15 minutes
I provide high quality of work and meet all your needs in the fields of Magento 1, Magento 2, Wordpress, Laravel, and Symfony both backend and front-end development. With nearly 08+ years of experience with Magento 1., Magento 2, Wordpress , Laravel ... in particular, and 10 years with programming in general, I am always available and happy to support you! I am also a magneto Certified Developer Check my Magento Certified Profile. http://www.magentocommerce.com/certification/directory/dev/308059/
Average Rating
4.9
(27 ratings)
Super helpful as usual...
Vivek was extremely keen and assisted with our problem immediately, however communication wasn't great and after several hours, our problem is not resolved and we have to start all over again...
Vivek was very responsive, knowledgable, professional, and able to answer all the questions i had about the project (and i had many). I have more work, and very much look forward to working with him again.
Fast and very skilled developer, did what others couldn't. Would hire again!!
Great job, would hire again.
Great job, wasn't a easy task and Vivek did it. Fast too! Would hire again.
I love this guy, he helped me to run up my application, it was giving me an error and the website was down, thank you again bro !
Solved an issue with Laravel. A .env variable had uppercase letters in it. Changing the variable to all lowercase solved the issue that I had. This took 45 minutes, which seemed a little long.
VIEW MORE REVIEWS