Find a mentor

Web Programming

Mobile App Programming

Programming Languages

Data Science /Engineering

Database /Operations

Others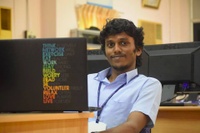 Vishnu Ks
A techie, nerd, blogger who loves to talk in python and dream in clouds..
I started coding with C then C++, Java, PHP and finally Python. Now I am a corporate trainer and developer in python. I have trained more than 1000 trainees. Simply a techie, nerd, blogger :-)
I am an AWS customer for past 2 years. Having an AWS ec2 instance is like having a supernatural power for me. I have developed and deployed most of my applications on AWS cloud. Now I'm trying AI APIs like polly and rekognition provided AWS.
It was my responsibility in team to manage both linux and windows servers which we were having on cloud. Initially I was using chef for automating deployments and patching servers; but when I started using Ansible for automation, I myself felt it as simple to setup and use as the needlessness to install any client software on nodes. Ansible also works with nodes which run on windows if they have powershell. As of now,I play with playbooks on Ansible.
Github repositories
mgu-analytics
This code was used to populate the database of mguresult.in by scraping examination results of mgu students.
ABSA
ABSA (Aspect based sentiment analysis)
Ansible Ad-hoc Commands
Everything you need to know about Ansible ad-hoc commands.
Aspect Based Sentiment Analysis
Learn about what an aspect based sentiment analysis using python can do to make your life easier.