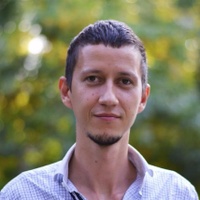 Viorel Stirbu
Average Rating
4.9
(18 ratings)
Amazing mentor. Knows a whole lot about bitcoin, exchanges and wallets. Learned so much from the session.
Awesome mentor. Covered bitcoin exchanges in depth. Gave a practical example on an exchange. Answered all my questions.
Went through some of the graphs on blockchain.info. Viorel broke down what they mean and how they were relevant in an easily understandable manner.
Talked a lot about Cryptocurrency and walked me through bitcoin account creation and bitcoin use. I got to see how the blockchain actually works in real time. It was an amazing and very practical session. Viorel is an awesome mentor.
Viorel went through how blocks and the block chain has changed over time in a very detailed and simple way. He made understanding how block chain works very easy.
Amazing mentor. Discussed bitcoin blocks and block chain in an in depth and understandable way.
Great bitcoin mentor. Explained the basics really well.