Vignesh M
Full Stack Web/Mobile Engineer | Python ❤ JavaScript Developer | Django ❤ React Expert, Mentor. Speaker. Hackathons Hacker.
$10.00
For every 15 minutes
5+ yrs Programming 2+ yrs of Professional Development & Mentoring Eye for Product and UI/UX Worked for many startups OSS <3 & Maintainer Full Stack Web/Mobile Engineer, Front End React/React-Native Redux/Apollo-GraphQL, Back End Django/NodeJs, Programming Mentor, Tech Speaker, Tech writter, Open-Source maintainer & contributor, Sport coder, Pythonista, JavaScripter, Hackathons Hacker & the Tech guy you will ever need. I started with computers when I was 4, building cool things ever since. Frontend UI/UX, Single Page Apps, Frontend state management, Serverless architectures, REST APIs, Backend solutions complete with relational/non-relational databases, Backend micro-services, Automation/Testing/Scripting, Web Scraping, Native Real-time Mobile Apps, Hybrid Apps, I got them all covered. Building full stack scalable, high performance, production ready apps with all the tech you will ever need, is what I do. I have mentored for Python and JavaScript. Coached teams for RGSOC etc, Spoke at tech conferences, Mentored Workshops and Hackathons, Top rated and ranked coder in sport coding. Won many hackathons and coding sprints. Open Source maintainer at React-Boilerplate and DuckDuckGo. I have a deep understanding of programming languages, I have played with all of the good and bad parts of them. I have worked with many startups and turn their ideas into a product. Got an Idea? Let's make it real. Resume: vigneshm.com/resume Links: vigneshm.com github.com/vigzmv linkedin.com/in/vigzmv/ angel.co/vigzmv twitter.com/vigzmv spoj.com/users/vigzmv/
Github repositories
what_the_thing
:camera: Point your camera at things to learn how to say them in a different language. Android app built with React Native.
IPFS-CRDT-shared-editing
Decentralized Real-Time Collaborative Documents - Conflict-free editing in the browser using js-IPFS and CRDTs.
Building a Reactjs project with Parceljs
Parcel is a Blazing fast, zero configuration web application bundler. Learn how to build a Reactjs project with Parceljs
I gave a Talk on React!
I presented a 5 hour long React Session/Workshop at Facebook Developer Circle Delhi React Code Lab.
Average Rating
5.0
(7 ratings)
Helpful and finished way before the deadline.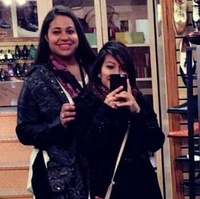 Great mentor! He did a great a job at explaining everything and making sure I understood. I am very pleased.
After every session I realize that Vignesh is the one to meet when I have a problem in Django! Thank you again!
Vignesh is really helpful and he really knows how to deal with any kind of problem in Django. Highly recommended.
Hi solved my problem again! Very attentive as usual and very knowledgeable in Django.
Another session which has been awesome. Vignesh is always available to help.