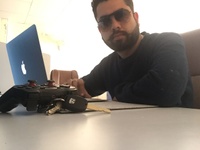 Veenit Chauhan
Full Stack Laravel developer
$9.00
For every 15 minutes
I have 7+ years of experience as a full stack web developer. I am passionate about proving best of my services to convert Imagination of clients in to reality. I can stick to deadlines, work under-pressure and work with minimal or no supervision. I believe in providing quality services. With my intense experience I have undergone various complex projects on PHP and MySQL. I have developed a series of web/mobile applications / solutions for the global clients. I have worked in all stages of application development starting with the design phase, through development, testing and implementation. Below is a short description of my expertise- • Core Competencies: PHP 5, MYSQL, JavaScript, Ajax, jQuery • PHP Frameworks: Laravel, CakePHP, Zend, MVC and CodeIgniter • Javascript Frameworks: jQuery, AngularJS, ReactJS, VueJS • CSS Frameworks: Bootstrap, Foundation • APIs: Facebook, Google, Linkedin, Twitter, Youtube, Amazon, Quickbooks, Stripe or let it be any API having a decent documentation. • CMS : Wordpress, Joomla, Magento, OsCommerce • Payment Gateways: Stripe, Paypal, LinkPoint, Authorize.net, SecurePay • Database: MySQL, SQL, Postgre, Oracle, SQLite - Supportive skills ◦ Red Hat Certified Engineer I use git all the time for version controlling and for deployment of code. I have much experience with building SaaS-model projects. Which includes user roles, custom admin, reportings and lots of APIs integrated from social media to payment processing. - About myself - Honest / Frank / Quality-obsessed / Far-sighted Let's get in touch for your next big project.
I have started my carrier with PHP in 2010 when PHP was at top of its popularity level. and I started with learning core PHP and directly jumped to Codeigniter and it didn't took me long to start with CakePHP. I built one enterprise level software when I was only intern in some local company. and believe me that software is still working fine :) then eventually I moved towards Yii and then I found Laravel and its my personal favourite among all PHP frameworks I have used so far. I have used almost every PHP framework to built websites, APIs and Saas based projects. I have completed around 50+ projects so far and never got rating below 4.8 out of 5 on any portal.
I found Laravel back in 2013 and I just released that I have found a framework which I can use almost in any project. Like I use Lumen when it comes to build powerful APIs and when I need to develop a quick website with good CMS to manage the content my first choice is OctoberCMS over everything (sorry to Wordpress lovers but I hate Wordpress) . when it comes to provide a SaaS project with fully functional admin then what is better than Voyager. and since Laravel 5.5 is out I am feeling more confident because it have VueJS out of the box.
Basics of Naming Conventions for PHP Developers
In Web Development world, keeping a definite naming convention is a tough job. Every developer follows the practices he feels convenient and you may even identify the code written by a particular developer.