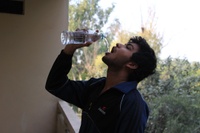 Vasudev Singh
You give me any problem and will solve it as a combination of python , C, JAVA, ML and Android
Idiomatic Python. Coding the smart way.
The key characteristic of python is readability. It is of great importance that we leverage on readability, since code is read much more often than it is written.
An Introduction to this New Kid Called MACHINE LEARNING
A beginner's Introduction to the world of machine learning and Artificial Intelligence.