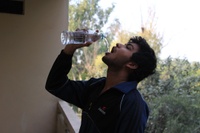 Vasudev Singh
You give me any problem and will solve it as a combination of python , C, JAVA, ML and Android
Business Card Scanner Android application
Losing important contacts every now and then ? Tired of carrying around all those visiting cards where ever you go? Well that is a problem of past, because with Business Card Scanner at service, life becomes hassle free. Just click a photo and in seconds using the inbuilt Optical Character Recognition engine the contact details will be in your Phone Book.
2017
Client: Userbase of 20000
Github repositories
ML-expression-recognition
Expression recognition using CNN.
youtube-downloader
A simple python program to download songs from youtube both as audio and video.
Average Rating
5.0
(4 ratings)
Fixed and helped create the server very quickly and it worked perfectly!! Would recommend to anyone!
Very time efficient and professional