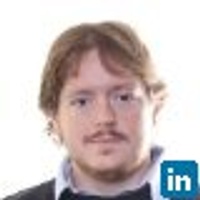 Travis Stokes, PMP
Creative, Adaptive, Transparent, Excited to Learn and Teach
$15.00
For every 15 minutes
I am a creative developer with extensive and varied experience, that excels on fast paced teams that emphasize clean, efficient designs and well-structured projects. My experience has touched a wide array of industries from library management services, to tax accounting, hospitality, healthcare, and decision support services. I excel at rapid integration of new technologies and have used a multitude of different technologies including nodejs, Angular, sequelize, WPF, ASP.NET (Web Forms, MVC and WebAPI), Knockout.js, JSON, Lua, and many others.
I have been working for several years developing professional web and mobile apps utilizing NodeJS, Angular, and more recently Ionic for a wide variety of clients in a variety of industry. I currently serve as Director of Software Development for,a,comlany that manages 3-5 active fresh development projects at any time, as well as half a dozen or more long term support clients, with about 80% of that workload being in nodejs with Angular and/or Ionic front-ends.
The bulk of my career has involved some form of .NET and ASP.NET. For several years I worked exclusively in C# with MSSQL on a variety of projects built on ASP.NET WebForms, MVC, WebApi, WinForms, WCF, and WPF. I have extensive familiarity with all of the native components as well as a variety of frameworks from Forms packages such as DevExpress and Telerik to payment modules that interact with Stripe, Authorize.net, etc.
Since day one in my career I've noticed one consistent frustration with software development both from the developer side and the consumer side - poor project management. All too often projects are rushed through without proper planning and the customer pays dearly for it. Seeing the cycle of projects failing to plan, failing to monitor, and failing to produce early in my career led me to pursue strong project management and execution skillsets. In that pursuit, I've sought out teams with various project management approaches to observe and learn from and have studied and been certified for project management with a Project Management Professional certificate from the internationally recognized Project Management Institute.
Hazon Drone Management System
Hazon's Drone Management System was developed during my tenure as Director of Software Development for Array Digital. It provides drone safety and management features including operational status, positional tracking, inspection management, and lessons learned tracking all built on a pure Javascript (NodeJS/AngularJS) stack support by Postgresql for persistence.
2017
Client: Hazon Solutions, LLC
During my time at Atlas Systems, I was responsible for aiding in the maintenance of and design and development of new features for their flagship product, ILLiad. In addition to implementing various new features in .NET/WinForms and MSSQL, I was also responsible for leading an initiative that resulted in scripted automation of the application and dynamic custom forms via a LuaScript based add-on system.
Github repositories
adventofcode
Repository for Advent Of Code puzzles
Hiring a New Software Team
A quick guide to several of the most common and troublesome issues when changing developers for an existing project.
Motivational Lessons from a Five Year Old
How I learned some intricacies of motivating employees and coworkers from a 5 year old.
"Programmer" is the New "Author": How Misperception is Polluting an Industry
A brief review of the state of education and standardization in the software industry.