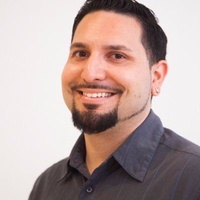 Tony Guerrero
Javascript Guru and Coding Educator
For every 15 minutes
I have been in the coding education sector for about 4 years now and I love helping students understand difficult concepts. I have over a decade of engineering experience with a degree in computer science. My specialty is Javascript and database development. I currently am highly invested in the MongoDB community. I will not only get you to the answer quickly but make sure you understand the complex problem or error on the screen :).
3
React
Github repositories
angularAuthentication
student facing repo for angular authentication
algos_and_data_structs
A compilation of different algorithm and data structures in JS
Average Rating
5.0
(6 ratings)
Very helpful mentor! I recommend him if you're having trouble! He explains the problem thoroughly after writing out the code!
Very patient and explained every step of the process
Tony was great! Solved my problem quickly and was conscious of making sure the code was solid!
CLUTCH! TONY IS CLUTCH! End of story! The guy is awesome!
Very helpful and friendly.
Tony was very patient figuring out a solution for a complete project