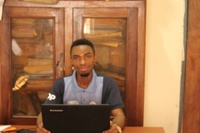 Adetuyi Tolu Emmanuel
Passionate solution driven software developer and Google Certified Associate Android Developer {Teacher, Mentor, Trainer}
3
Android
Github repositories
Language_Time
A library that converts Time to its equivalent local languages starting with some basic Nigeria languages(Yoruba, Hausa, Igbo, Efik and English)
LagosDev
An Android app that fetches lagos developers with their equivalent rank using github api
Fast Tracking Android App Development With Optimum Delivery
Hustling to meet your deadlines? Learn foundational practices for efficient Android app development.
Average Rating
4.9
(17 ratings)
Adetuyi attempted to be helpful, but we had an extremeley poor internet connection. I had to pause the session twice and I could not hear for most of the remaining time we were connected.
Always good and professional, thank you !!!!
Great Teacher, really fast and solve my question. All Good!!!
Great help, very patient and highly skilled. Helped me with a problem I have had for a looong time!
Adetuyi is a very experienced programmer. He help me complete a program I had trouble with within a reasonable time and a fair price. I recommend him. P.s- he helped me with a java program.
Adetuyi helped me to understand when to use Relative Layout and Linear Layouts.
Great guy with extensive knowledge. I will use him again.
Very helpful advice, Knows what he is doing. Highly Recommend!
Adetuyi was a joy to work with and solved my java issue in a very short time. Excellent work and super patient! We had some zoom issues but we got through it.... Can't say enough about this young star!