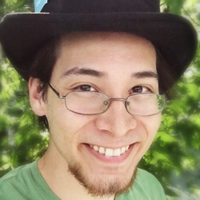 Takumi
Programmer Analyst at Yale Child Studies Center
Most of my experience is technically Unityscript, which is somewhat different from Javascript used for the web. I wrote the game Luna's Wandering Stars in Unityscript (now on Steam), which includes a full-featured editor for creating gravitational puzzles, and action-filled space adventures.
I'm currently leading the development of Pixel Galaxy, a game written in C# using the Unity3D game engine. The game includes many custom low-level elements for the its specific needs. I've also written and advised on smaller projects using C# and Unity3D.
Most of my professional experience as a game programmer has been in Unity3D. I've overcome many hurdles with the engine, and know its strengths, weaknesses, and quirks. I've lead the development of two commercial desktop games, and oversaw the development of numerous smaller projects for handheld devices.
Procedurally Generated Nebulae in Unity3D
Learn how to create your own stunning and dynamic nebulae background in unity 3D in Luna's Wandering Stars.