Find a mentor

Web Programming

Mobile App Programming

Programming Languages

Data Science /Engineering

Database /Operations

Others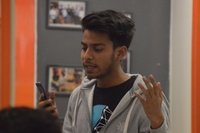 Ashish
JavaScript Expert, Front end Developer and Web Engineer
How JavaScript works: memory management + how to handle 4 common memory leaks
A few weeks ago we started a series aimed at digging deeper into JavaScript and how it actually works: we thought that by knowing the building blocks of JavaScript and how they come to play...
How I Coded Everyday for 365 Days
A high school junior's journey from Google Drive for git to coding addiction Republished from Medium.com (https://hackernoon.com/how-i-coded-everyday-for-365-days-67ebb5fc7ae) Approximately 365...
I wish I knew these before diving into React
6 React Development Tips for Beginners
Do you really think you know strings in Python?
Learn about some beautiful string concepts in Python.
How and why I built 2-Way Data Binding Library
2-Way Data Binding
Using Docker with Elasticsearch, Logstash, and Kibana (ELK)
Learn how to Dockerize an application built using Python/Django and the ELK stack.
The Ultimate Crontab Cheatsheet
Cron is a *nix utility which is used to schedule a command or script on your server to run automatically at a specified time and date. A cron job is the scheduled task itself. Cron jobs can be very useful to automate repetitive tasks.
Building your first web app using Python/Flask
Get started with the Python micro web-framework : Flask and see how to build a simple website using it.
How to Avoid Common Pitfalls in JavaScript
JavaScript is a powerful language, but there are certain syntactical and behavioral pitfalls in the language that a newcomer may fall for. This list will help you avoid some of them.