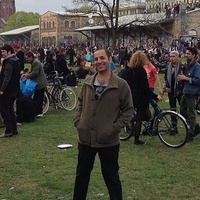 Eliran Zach
Highly experienced Bitcoin/Cryptocurrency developer
$30.00
For every 15 minutes
I've being doing full-stack development for more then a decade, of which I've spend the last 6 years specializing in Cryptocurrencies, and worked a wide variety of projects, like a 2nd layer protocol for bitcoin called Colored-Coins, or a whole mining pool from the ground just to name a few.
As a full time Bitcoin/Blockchain developer for the last 6 years, I have worked on a wide range of products from bitcoin wallets, mining pools, 2nd layer protocols (I'm one of the original developers of http://coloredcoins.org/) and much much more....
I've been coding JS for close to a decade now, on every platform, and in every environment that exists. Front-end, Back-end, mobile, IOT, you name it, I've JS on it.
On every job and every project for the last 5 years, I've doing the roll of DevOps for at least 10%-20% of my time.
Github repositories
Bitcoin-JAVA-API
An easy to use bitcoind API implementation in JAVA - with no dependencies other then the ones provided and java 1.7