The world's greatest DIY platform, but don't use a Swiss Army knife when you need a power drill — or just a single blade.
74M sites out there are depending on good old WordPress. That's almost two sites for each Californian. Around 50% of this figure (close to 37 million) is hosted on the free WordPress.com. In the total of self-hosted sites, WordPress accounts for almost 30% of all websites.
Wordpress was delivered as a CMS solution that allows people that like DIY way to have a fast website. There is all kind of uses for Wordpress: Business Website, eCommerce, Job Board, Business Directory, Non-Profit, portfolio, Online communities, a coupon website, multilingual websites, Wiki, Podcasting, affiliates, photography, school or college websites.
The difficulty comes with the technology that is behind Wordpress: PHP. PHP is not the easiest to grasp, setup and delivers programming language. Not talking about debugging but that is for more, advanced usage.
5 minutes installation
This is the advertised time but it takes even less on my MacBook. The average enterprise setup can take more depending on the number of plugins and required features but for a normal setup is fast enough to just drink a coffee.
Themes and extensibility
For themes, there is a majority of designs that look blog like. I remember a friend of mine saying this: "Oh, their website looks like a Wordpress" referring to a competitor's website.
Well yeah, there are better designs but in general, you are constrained to the platform.
Plugins are available for both free and paid versions: Cache, SEO, Authentication(s), Statistics, eCommerce. You can find plenty of them on GitHub or wordpress.com.
Migrating to a new hosting
A lot of businesses emerged around this problem. That's because the tutorial is simple but the problems related to database and plugins version reinstallation are there. Here you can find a starter tutorial. You can find other free or paid services in this nice article.
There are two big reasons why this is wanted: price or speed. This can be dependent on the area your clients live. Not mentioning the fact that a CDN will always improve your customer experience.
The average customer will be very satisfied if your website loading time is under 2 seconds. Over 5 your internet place is just for stories and you can forget about it.
They say that the average attention span is down from 12 seconds in the year 2000 to eight seconds now. That is less than the nine-second attention span of your average goldfish. But imagine you take more than 2 seconds from that 8 seconds that your client offers to your website.
And did I mentioned that adding more Wordpress plugins makes your website load even slower?
SEO optimization
Just google "Wordpress SEO" and you will see that WordPress is the darling of the SEO community. You can create readable permalinks to blog posts and pages and install themes that follow search engine optimization best practices. This is just basic.
Many of the technical solutions for SEO come from good HTML. So what you really want is a system that lets you edit semantic. Given the choice between ready to use themes and designer-friendly HTML themes I would choose the latter one.
Known problems
Sorry for the long post but we all have different problems during our daily tech life. Let's see what are the most Wordpress common problems.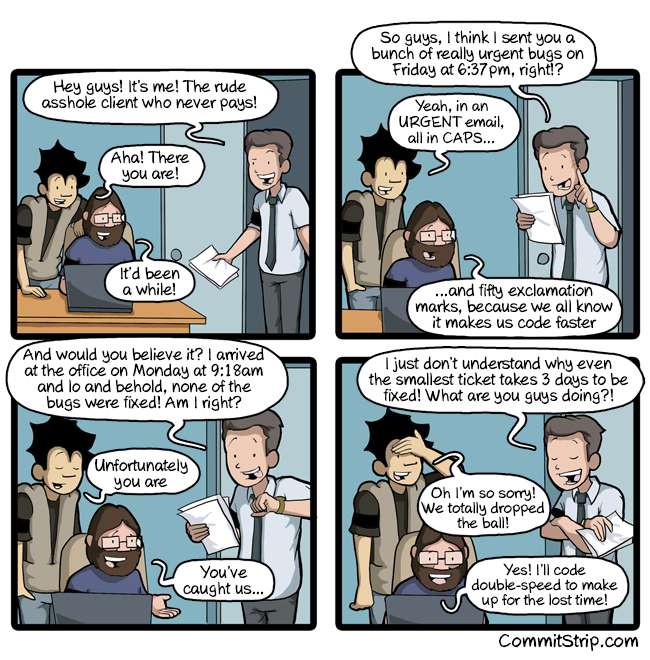 Some of the common problems are:
Inconsistent backend: when handling multiple clients it can be a problem to know how each backend is configured.
Customization: each plugin can boost up the final cost of your website.
Security issues: open source code comes with its cost and vulnerabilities. Some of the problems are related to published malicious code. Be very careful with that and read about a plugin before installing or updating it.
Updates and maintenance: Wordpress updates are pretty often but are difficult to manage plugins compatibilities with new CMS or your favorite theme.
Page speed: Excess plugins, unused code, slow queries, caching missing. There are some known solutions for this and I can help you with that.
Steep Learning Curve: Anything past the basic features (blogging) requires some time to learn, understand and become a little bit technical.
No built-in backup system: Have you ever lost an entire document? But how about your business website? The are some plugins that can help you with that such as BackupBuddy or UpdraftPlus.
Frequent error messages: Internal server error, syntax errors, RSS feed errors, White screen of death, Error Establishing a Database Connection, 404 Error, Sidebar Below Content, White Text and Missing Buttons, Memory Exhausted Error, Locked Out, Login Page Refreshing and Redirecting, Image Upload Issue, Unavailable for Scheduled Maintenance Error, Not sending email, Too Many Redirects, Failed to Write File to Disk, This site ahead contains harmful programs, Maximum Execution Time Exceeded, Missed Schedule Post, Facebook Incorrect Thumbnail Issue, Keeps Logging Out. The list can continue with plenty of items. Maybe check how to debug yourself.
Alternatives
The eternal question Drupal vs Joomla vs Wordpress will not be a future article. You can already find enough information with just a google search.
I am personally a fan of 2 possible alternatives: node.js and Python.
For Python, there is Flask, a lightweight framework that can boost your website speed. And it comes with CMS.
We can help you with any of the languages: node, python or PHP to use a powerful theme of your choice from any existing provider like Creative-Tim or ThemeForest.
When will Wordpress die
For you, it may die today, if you find the right alternative.
It will not happen in the next few years. A lot of competition on the market gives you a wide range to choose from. On the other side time is limited for researching new alternative technologies.
For sure if you had enough problems and indeed a steep learning curve you could give a try to a more straight, easy to use service that can accelerate website development, deployment and, take you days ahead in your delivery.
Got a feedback from a good old friend:
I will for sure try this python framework. Last time I used Wordpress was too hard to handle.
Later Edit
Thanks to all the interested people that read the article.
In a later article we will bring more insights about alternative CMS.
Stay tuned!