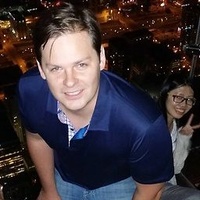 Tyler Williamson
Mobile Developer, native iOS+Android. Mobile life!
For every 15 minutes
I am a professional software developer who has been writing Android code since 2010. I have a Bachelors in Computer Science, and have been coding since childhood, circa 1996. Code can be fun, and it can be done right. If there's anything I can hope to teach people, it's that there are definitely wrong and right ways to write code, and design architecture. When it's fun, elegant, readable, all the good things, coding can be extremely fun and gratifying. When code is un-professional, un-maintainable, un-readable, and un-enthusiastically received, it can be brutal. Avoid this at all costs.
I have been developing Android applications since 2010. I have had professional, medical industry, as well as other professional experience. I have also developed a few apps and side projects, because I think it's fun! Sorry, no Phonegap or other cross platform frameworks!
Average Rating
5.0
(15 ratings)
Tyler was honestly super helpful since I started to talking to him before we did our session. He went above and beyond to help me solve my issue. If you are looking for a top-notch Android developer and all around awesome guy, give Tyler a shot. You won't be disappointed.
Tyler was very helpful. His love for Android is almost contagious! He is extremely knowledgeable and gave me background information so that I would better understand why we were doing things the way we did them. I would definitely recommend him to Android users who are stuck.