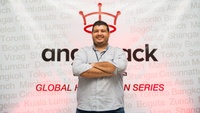 Oscar Soriano
Software developer for 12+ yrs. Programming is my passion, love what I do.
$15.00
For every 15 minutes
I've been developing software for more than eleven years, can't have enough, it's my passion. Most of my years I spent working with the Microsoft Stack, on most platforms - from desktop to web, from services to Xamarin. Lately though, I've been more invested in web technologies, specifically NodeJs and front end frameworks.
Our role was to create the backend for a device that is plugged to vehicles. It's connected through cellular data and sends packets to our server which then parses and processes. It delivers assistance in case of an accident or any other help the driver needs on the road. It also tracks the vehicle realtime and show indicators in a nice dashboard.
Created sets of microservice that provide api endpoints and process different transactions with their clients. These transactions could be data parsing from csv files uploaded to a S3 bucket, or hitting a KONG endpoint which will run Lambda functions and trigger processes by placing data on SQS queues.
Undergoing PCI-DSS certification, the bank trusted me to create a tool that would hide credit card numbers across systems. I designed the software and led a team that accomplished the task. We created a very user friendly interface around the encryption features already provided by SQL Server 2008. It also provides key lifecycle management capabilities. It connects to the database and shows the available tables and columns. You choose to encrypt a column, or swap a key for an already encrypted one, this last one triggers a reencryption. When new keys are created, these are split up; the pieces are then given to designated people for them to protect as custodians.