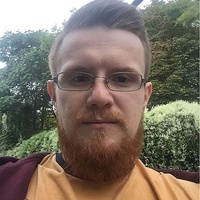 Mihai Solomon
$15.00
For every 15 minutes
Experienced Developer with a demonstrated history of working in the marketing and advertising industry. Skilled in iOS, SQL, PHP, Objective-C, and jQuery. Strong engineering professional with a Master's degree focused in Distributed Systems and Web Technologies from Universitatea Tehnică "Gh. Asachi" din Iași.
Top Ads is the mobile app that lets you watch the most interesting video ads. Either is nostalgia or the underrated, the app will display the most surprising commercials that will bring you a smile every time you hit play.
Let's bake some awesomeness! UX Recipe is a sincere and realistic checklist app where you discover, choose and estimate your next UX project tools & techniques.
Average Rating
5.0
(49 ratings)
Had a great session today with Solomon. He really knows how to help you tackle your issues, and he can tackle quite a few of them at once. He really cares about helping you with your project, and making sure you are using the best practices, while also providing valuable guidance. Thanks again.
We changed our entire UI and solomon was very helpful today in assisting us with our bug issues, and provided great guidance. Thanks again.
Solomon always comes in the time of need, even when hes on a break :D, best mentor ever!
He's a great mentor, he always comes in the time of need, when you really need him. He is a very dependable mentor, we are always learning each session, and that really counts when you are working on a serious project. Thanks solomon!
Solomon is great at finding solutions for any problem you have. He is a great full stack web developer, and a great mentor!
One of the best mentors on here! We always have great sessions.
Every session you learn something new, thanks solomon!
Solomon did an excellent job today helping us fix some tough bug issues, we always appreciate his help, and valuable guidance as a mentor!
Thank you for helping us fix our tricky bug issue. Awesome mentor!
Excellent mentor, always learning something new each session. Very focused on helping you and answering your questions in ways you can easily understand. Thanks Solomon for your help today.
VIEW MORE REVIEWS