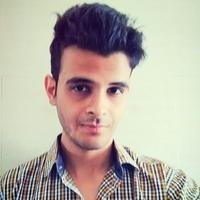 Siddhant kapil
Data Science, Machine learning and python expert
Github repositories
voc_class_extractor
To extract out a particular class from voc dataset
How to Use Tefla: Simple Deep Learning Wrapper for Tensorflow
Tefla is an effective deep learning framework and wrapper on Tensorflow. Read this blog and learn how you can use Tefla.
Average Rating
5.0
(14 ratings)
Best tutor I ever met. Understand what you need when you are lost in your work and guide you throug.
Went above and beyond to help me complete freelance project. Hopped on a call multiple times to help me understand the problem. Excellent quality work and all around great guy.
Thank u for all your help
Very quick, very accurate!
Amazingly talented personality. Did the job perfectly in fraction of the time frame ! Will definitely keep in touch and use the help when needed. Thank you Siddhant !
Fantastic Mentor! Very helpful! Great communication and detailed understanding!
on time, to the point thank you for your professionalisim
Thank very much for all your help with models classifications
VIEW MORE REVIEWS