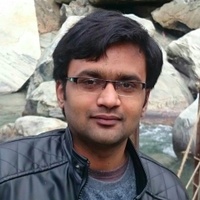 Shubham Desale
Former Full-Stack @Zomato.com, Google Summer of Code Participant
Average Rating
5.0
(21 ratings)
Apr 2018
Glad I found Shubham. He always does great work and gives great advice.
Mar 2018
He's the best!! Seriously.
Very co-operative and patient when it comes to doing the work, the work was done at an excellent level with very good guidance which helped a lot to understand it, thanks mate :)
Shubham has helped me through a number of issues so far. I couldnt be happier with his work and efficiency. After our first session, I felt lucky knowing I found someone who I could go back to over and over for help. I just hope that writing this review doesnt make him too busy to help me when I need it!
Feb 2018
Very precise and acquainted with Javascript and React, would definitely recommend! Shubham is very patient and a very caring coder.
Great mentor, very patience and clear to explain any concepts. Higly reccomended
Was very patient in first debugging and explaining the issue to me
Shubham is a smart and patient mentor. He solved my React issue and was able to explain the problem very clearly. He was very efficient and finished the job quickly. I would highly recommend him!
Very enthusiastic and patient with all my questions, made sure I understood before moving on. Would definitely recommend!
Quick and beautiful code, nice communication, and friendly. Not only a 5 star review because he completed the job super fast, but because he went above and beyond!
Shubham helped me tremendously with fixing a bug in my code and simplifying it to make it more readable.
Shubham helped me fix a problem that was bugging me for three days and explained it in great detail.
Jan 2018
Awesome super helpful and took time to explain the problem and solution to me!
Showed that everything worked, went through all of the material, fast-paced and concise. Thank you!
Dec 2017
Very helpful. He taught me "how to fish," understand how to solve the problem and understand what was going on with my code.