What is iPaaS and When You Should Use it?
Integration platform as a service (iPaas) is a specific type of SaaS, a set of cloud- based tools that enables the integration of both on-premise and cloud-based services, applications, and data allowing the customers to develop, execute and govern applications and services. In order words, it is a hosted service offering by the third party provider delivers middleware and infrastructure to handle a organisation's 's Data Integration needs via a private or hybrid cloud. For some resources to learn more on the subject, see this iPaaS wiki page.
An iPaaS platform collects and integrates the data from different sources and systems (like CRM, marketing, finance and customer support software) and combines the data into one, consolidated system with a single interface. It supports real time integration with minimum disruption and enhanced overall customer experience. It connects to all the various cloud services that we use (like Hubspot, Salesforce etc.) and pulls data from each of those systems, normalize it and delivered it in a single comprehensive interface which is then used for analysis, business intelligence etc.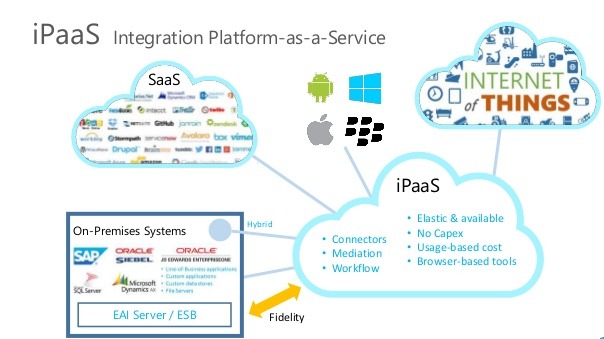 Benefits of using iPaaS:
Agile, Scalable, reduced IT overhead.
IoT awareness
"Easy" Self service connector tools, so that even non IT unit members can also use it for building application-to-application (A2A) integrations.
Why it is used for ?
iPaaS is mainly used by large business-to-business (B2B) enterprises that need to integrate on-premises applications and data with cloud applications and data. For example, Marketing professionals sometimes has more different products to collect, analyze, store and report on their lead generation efforts, customer satisfaction surveys, website analytics, and more. An iPaaS would take the data from all of these different on-premises and cloud based solutions and integrate it into one single set of data. The data then can be accessed via single interface and can be accessible to other departments of the organisation as well. This can also be shared to third party vendor by using iPaaS when working for a company on a specific project.
It is mostly used by software development organisations, because it includes tools for developing and testing applications, middleware tools, and tools for deployment and system/server management which helps programmers to focus on delivering software rather than supporting and building server environments at the same time.
iPaaS integration results in overall system simplicity. It allows faster configuration and management on both server and application side and so it is more frequently used by large B2B enterprises to strengthen their weakness of existing on-premise integration solution which is not able to respond to today's fast-paced data landscape with the agility required.
There are many vendors for iPaaS that are available in the market like Jitterbit, Dell Boomi(Introduced the industry's first iPaaS in 2008), Mulesoft, SnapLogic and also older integration companies have modified their tools to work with cloud services like TIBCO, Informatica, IBM etc.
To Conclude, it's a good move to begin thinking about long-term strategies to support computing models that includes both cloud and on-premises resources. However, iPaaS offerings from vendors with expertise in SOA and ESB provide the most balanced and strong set of capabilities for long-term integration and governance projects. According to a research conducted by Gartner, these offerings are under development and it is clear that iPaaS vendors with expertise in SOA and ESB are the best to tackle systematic integration for the cloud era.