Teaching someone on Windows and thought you could use CodeKit? What to do...

I have used all of the preprocessing concatinating build thingys at some point. This morning I was using brunch and broccoli. I used yarn for the first time today too. For whatever reason, CodeKit still has a sweetspot for certain WordPress jobs I take. Latetly I've been showing some people the ropes on codementor here - and many of them have windows. I searched for options - but what I ended up with was Prepros.
If you are using Windows and want a CodeKit like interface, Prepros is what you'll end up with too. You need to just buck up and buy it - or the ads will quickly cause you 30$ of anxiety anyway.
Mostly, Prepros has the same things as CodeKit (that I actually use - codekit is much more advanced over all) / but one thing wasn't clear to me. How should I add files to be prepended or appended to my main JavaScript file? In CodeKit, you drag it (which is kinda weird / you know what I'm talking about if you've used it) - but in Prepros, I didn't see any option like that.
It turns out that you can just add this tricky little comment to the top of your main .js file.
//@prepros-prepend vendor/addon-1-scripts.js
This will let Prepros know what file you want prepended - and act accordingly. Same goes for append.
I didn't ever use it, but apparently CodeKit had/has a very similar signifier
//@codekit-prepend node_modules/flickity/dist/flickity.pkgd.js
You can use the CodeKit version too - since Prepros supports it / which may be better for cross compatibility?
After discovering this... I kinda like seeing it there in stone instead using the GUI and then having that stored in the config.
SO! Teaching someone on Windows? Their project isn't really a fit for Gulp? Try this out!
EDITE
I tried switching a CodeKit project to the explicit //@codekit-prepend style - and I couldn't get it to work… So - take a look at that yourself / maybe it's not obeyed in the newer versions… : /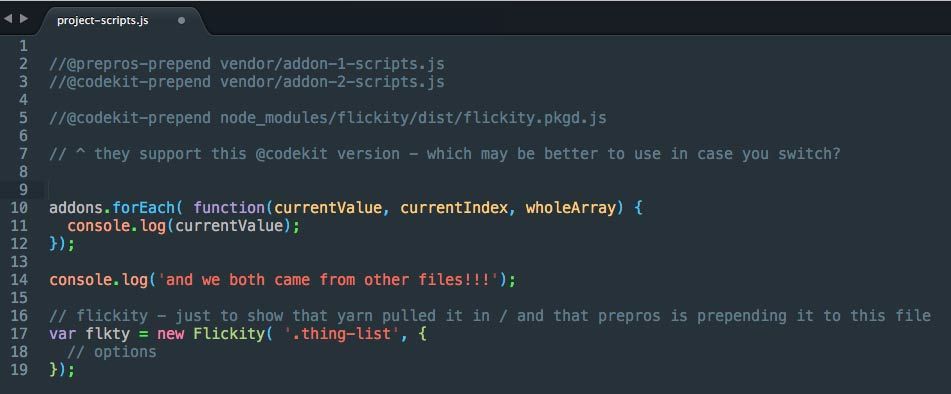 I don't really enjoy trouble-shooting build tools.
But If you can get setup... and you want to learn - checkout my profile and see if we'd be a good fit : )