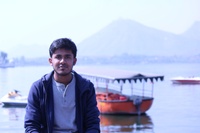 Satwik Kansal
Python | Data Science | Decentralized Applications
For every 15 minutes
Hey there! I'm Satwik, a Freelance Software Developer. My skills of expertise include Data Science, Web Development, and Decentralized applications (Blockchain). To give back to the awesome community, I actively work with few Open Source organizations and occasionally write detailed articles on specific technical topics. Some of my works have been featured at HackerNews, several popular Newsletters and Podcasts like PythonBytes, PythonWeekly, DataElixir, and more. The appreciation that I receive from the community, and the ever-fascinating learning opportunities in this field of Computer Science is what that has kept me going. Interested in knowing more about me? Do visit my site https://satwikkansal.xyz
Github repositories
wtfpython
A collection of surprising Python snippets and lesser-known features.
readme_styles
README.rst and README.md template for projects.
Can Python Make You fly?
Funny and interesting python features that a lot of people are unaware of.
Do you really think you know strings in Python?
Learn about some beautiful string concepts in Python.
Some tricky Python snippets that may bite you off!
A collection of subtle and tricky Python examples
VIEW MORE POSTS
Average Rating
5.0
(2 ratings)
Excellent tutor: professional, smart, patient, and supportive!
Satwik did a great job explaining an algorithm I was stuck on. He went above and beyond by expanding the concept on similar problems.