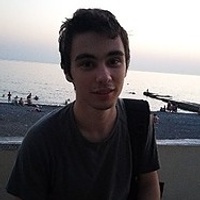 Sam Bocharov
Сurious Full-stack developer
$8.00
For every 15 minutes
Hi! My name is Sam! I'm passionate full-stack developer. At the moment I work in S Media Link Compnany - one of the biggest development centers in South Russia. In parallel I study computer science depths in Krasnodar state University. We are spending a lot of time for data structures, algorithms and moundations of mathematics like linear algebra, mathematical analysis and many other things. In free time I try to implement this theory in real algorithms and problems using many python libraries. Aside from working on the web, I like to play with some new modern technologies like Machine Learning, Blockchain, microcontrollers and so on.
That is my own project. I made an admin panel for smart house system, made server, which contains a house-state and changes it using web sockets, and I made client web-application. With this system you can manage your house remotely. I was intern, I was new in JavaScript development and I know, that code in this project is not as clear as it could be, but that is my first serious project.
Average Rating
5.0
(4 ratings)
It was a great session! Sam is very knowledgable and helpful. Its easy to agree on time with him, and he explains everything in detail and guide you through the whole work. Thank you Sam!
Sam was great! I was having trouble with an issue for days that he helped solve in minutes! Will definitely be using his help in the future 👍
Awesome!!!! Patient and very detailed.
Sam was patient and very knowledgeable as we worked through some front-end and back-end issues. Despite some issues with the API I was using, Sam worked around this and helped me get the result I wanted. Excellent professionalism and highly recommended. Thanks again, Sam.
Sam did an amazing job with explanation and help with the code. He is very detail- oriented and patient. I would recommend him to anyone!