Find a mentor

Web Programming

Mobile App Programming

Programming Languages

Data Science /Engineering

Database /Operations

Others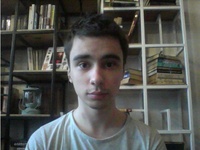 Sam Bocharov
Сurious Full-stack developer
$8.00
For every 15 minutes
Hi! My name is Sam! I'm passionate full-stack developer. At the moment I work in S Media Link Compnany - one of the biggest development centers in South Russia. In parallel I study computer science depths in Krasnodar state University. We are spending a lot of time for data structures, algorithms and moundations of mathematics like linear algebra, mathematical analysis and many other things. In free time I try to implement this theory in real algorithms and problems using many python libraries. Aside from working on the web, I like to play with some new modern technologies like Machine Learning, Blockchain, microcontrollers and so on.
Hi! My name is Sam and I'm web developer. Javascript is the main language in the company I'm working in. I've created several admin panels using ReactJS. For example, one of them is for Smart House System, another one is for platform which provides discount credits. I used Redux in every admin panel that I've created. And the reason for that is pretty obvious. It simplifies developer's life drastically.
It's a main building block of modern web. I like to check out MDN docs for latest technologies and specifications. Like web VR, bluetooth API, webRTC, cameraAPI and many others.
If I want to code for the soul, I code in Python. It helped me a lot during hackatons. Recently I used it for collecting data about the bars across the Krasnodar city whitch have been used for telegram bot. On weekends I like to play around with Tensorflow and algorithms. Because this is the best way to understand the theory that I learned in university.
Used it for own small projects. I think it's very good that developers can use JavaScript not only for programming actions on web pages. For me NodeJS is very good language for server development. Usually I use it with Express.js and Sequelise ORM.
React
- 2 years experience
This is good framework for front-end development. Helped me a lot in many situations. I've created several Admin Panels,Wweb Extensions and many other things with this framework. I use Redux in my projects. In my opinion, it is the best solution.
Made a few browser extensions. For example, made own plugin for switching browser proxy settings, made extension for blocking buttons on web page. Worked with different browser's api (opera, chrome, firefox, safari).
That is my own project. I made an admin panel for smart house system, made server, which contains a house-state and changes it using web sockets, and I made client web-application. With this system you can manage your house remotely. I was intern, I was new in JavaScript development and I know, that code in this project is not as clear as it could be, but that is my first serious project.