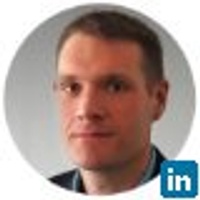 Robert Whitcomb
Experienced, results driven, customer focused developer and architect. Seeking to help individuals improve their software development skills and organizations to achieve their goals with technology.
$10.00
For every 15 minutes
My primary goal is to help people who enjoy coding become great at both development and in their careers and life. I also enjoy working with organizations to show how technology can improve their efforts to execute on their mission. I believe technology is a means to an end, and that in order to get the most of it, the end must fully be understood. This means being customer focused and working to ensure the right solution is determined before a line of code is written. It means for individuals to determine what their goals in both life and career, and how technology can help with.
I've worked several years with C# on both desktop and web applications.
I've done quite a bit with Java web applications and the various standards. Worked with JAX, JAX-RS, JFX, JSP, etc.
The majority of my work in recent years has been developing web applications with as either SPAs talking to a RESTful api or a framework like ASP.NET MVC.
Github repositories
M2MIMud
The game that I built for my master's thesis.
Improving the Windows Command Line Experience: Bash on Windows
A brief survery of Bash on Windows.