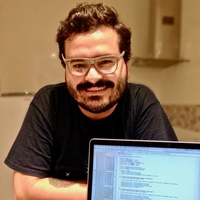 Ronan Rodrigo Nunes
Swift and iOS Software Engineer
$5.00
For every 15 minutes
I am a software developer who likes to keep up to date, experimenting with and discovering new technologies and new approaches to software development. I believe and I like the dialectic to propose and discuss ideas with an alternative to everything. Currently focused on developing applications for iOS, but I also have a good experience with backend and web frontend. I love to talk about software development. And I helped some friends to become a developer and get promoted in their careers. Through weekly meetings, teaching about unit tests, TDD, software architecture, iOS frameworks and providing a good study material about iOS.
Swift
- 3 years experience
I already develop applications that just need network integration and big applications with offline support and advanced sync methods. I can be you partner in your trip in software development.
I started to mentor some friends where I worked. And now I feel confident in taking anyone to the next level in their careers. I'll be able to help you with everything from screen construction to architecture and testing. And I'll provide you any materials to boost your knowledge.
I participated in the development of a large hybrid application with Xamarin, Interface Builder for iOS, XML screens for Android and data synchronization mechanisms.
Following best practices in Software Development and using the least possible third party libraries. This project will be documented in a series of blog posts and the main topics will be TDD, Clean Architecture, SOLID principles and views construct by Code.
Github repositories
birthtalk
Meet who have birth common with you
Recipes
Study case of Clean Architecture and TDD at iOS with Swift.