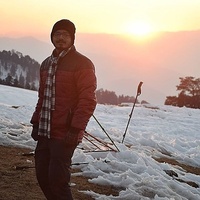 Rishabh Daal
Teaching Assistant, Former SDE Intern at Amazon
Average Rating
5.0
(54 ratings)
Apr 2018
Definitely a lifesaver, I forgot an important aspect of an project which had to be done very soon, and he managed to help me out so I hopefully won't lose any marks for my careless, forgetful moment. He was very fast at understanding the problem and acquiesced to all of my requests without complaint, and had great speed. I couldn't have asked for a better last-second helper :') I actually didn't have time to pay before the session but he actually helped me nonetheless, very grateful.
Was very polite and fair, listened to my problem and offered a 1:1 session. It was clear that he did not fully understand the problem, so he refunded the session although he was not obligated to. Thanykou Rishabh Daal
Appreciated work. Thanks Rishab!
Quick and Awesome work done by Rishab. Always recommended to everytone
Amazing work. Done on time!
Great session again, the tricks I learnt are extremely useful and interesting.
Rishabh did a great job in helping me to understand the algorithms, tricks, and to identify different type of questions. He can also quickly figure out the solution and explain other problems I encounter somewhere else during the session. Highly recommended.
Mar 2018
Great Mentor. He patient and able to explain clearly
He was great. I learned a lot. Highly reccomended. The best.
didn't complete job. i need refund back.
Feb 2018
Great work. Was able to write the C++ program with no problems.
Jan 2018
Awesome programmer and very professional! Would definitely come back for him :)
Dec 2017
Really helpful, worth the expense.