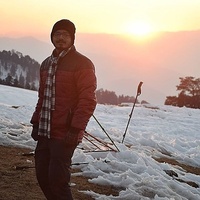 Rishabh Daal
Teaching Assistant, Former SDE Intern at Amazon
For every 15 minutes
If you are looking for Interview preparation for your next technical Interview I will be happy to help you in solving standard problems asked in interviews and develop a good approach for algorithmic problems. Other than That I can help you with : Python | Interview Preparation | Scikit-Learn | Pandas | Data Structure | Algorithms | Mathematics | Linear Algebra | Probability | Statistics | Data Science Some rules that I follow. 1. I will not accept any other mode of payment other than codementor. 2. Rate for offline requests can be negotiated. 3. max( myrate, yourrequestRate ) will be applicable
8
Python
7
C++
3
C
3
Data structure
Dynamic Programming - Lifeline of Technical interviews
A gentle Introduction to Dynamic programming for Interview Preparation.
Solving Problems with Binary Search
Binary search is a lot more than just a way to find elements in a sorted array. In this tutorial, I will help you understand binary search better by going through some basic problems then applying them in technical questions asked during interviews.
Graph Algorithms: Basic Guide for Your Next Technical Interview
This tutorial is about basic graph algorithms and how these can be used to solve some general problems asked in technical interviews.
Average Rating
5.0
(51 ratings)
Appreciated work. Thanks Rishab!
Quick and Awesome work done by Rishab. Always recommended to everytone
Amazing work. Done on time!
Great session again, the tricks I learnt are extremely useful and interesting.
Rishabh did a great job in helping me to understand the algorithms, tricks, and to identify different type of questions. He can also quickly figure out the solution and explain other problems I encounter somewhere else during the session. Highly recommended.
Great Mentor. He patient and able to explain clearly
He was great. I learned a lot. Highly reccomended. The best.
didn't complete job. i need refund back.
Great work. Was able to write the C++ program with no problems.
Awesome programmer and very professional! Would definitely come back for him :)
VIEW MORE REVIEWS