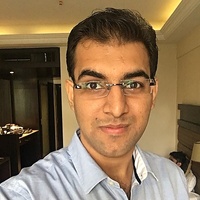 Ribhu Chawla
Full stack developer with expertise in iOS
$14.00
For every 15 minutes
I have spent maximum time on client side architectures and technologies and have primary experience in iOS. I have worked on various types of iOS apps both for B2C and for the enterprise. Have worked on News and Publishing, E-commerce, Flight Booking and Messaging apps. Other than iOS, I have experience in Web Dev (ReactJS and AngularJS), Android (SDK 22) and NodeJS
I have a background in Computer Science and have experience of working on iOS apps from scratch, managing releases on the test flight and releasing on App Store. Have worked on the B2C and Enterprise iOS Apps being used by over 10million users every day. Have an interest in client-side app development and have worked on various mobile development platforms including Windows Phone, Android (Java), AngularJS 1.x and ReactJS hence have understanding of ecosystems and compatibilities as well.
Messaging App - Glowing.io
Messaging app for the client hotels to text guests. The app is architected with FLUX architecture and uses RealmDB for storage. The app uses socket.io for messaging is optimised for high traffic messaging every hour without distrbing the user flow.
I architected the flights verticle of the PayTm iOS app. This is a session based app and has in memory data storage and cache for flight selection and booking. Flights vertical ties up with PayTm auth and PayTm payment gateway for flight bookings.
News and Magazine - The Hindu
The app is architected with offline first in mind and make sure that user can read the news even without internet. App also includes unique interaction design for navigating through news between sections. Uses Core Data for storage and MVC architecture