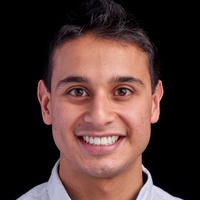 Allan Reyes
AI lover, robotics enthusiast and basketball fan
$10.00
For every 15 minutes
Hi there! My name is Allan and I have a passion for AI, robotics and basketball. I am also an advocate of clean code and good software principles. I strong believe there is always room to make the code you write better. I am a full-time Software Engineer and a part-time student; so, I spend my days engineering software at Amazon Web Service and my nights, pursuing a M.S of Computer Science at Georgia Tech. Here is a small FAQ that might help you decide if a session with me is what you are looking for: ** Why Codementor? ** I had the opportunity of mentoring new hires on my team and the experience was so satisfying that I am looking to continue doing it outside of my daily job. By sharing knowledge not only do I help other people grow, but I help myself to keep growing too! ** Why should you trust me? ** - I am friendly - I am brutally honest - I am dedicated and passionate - I am sincerely willing to help you grow - I want to share the experience and knowledge I've gained throughout the years - I am a GoT fan and Ser Davos is my favorite character - I love peanut butter ** What can I help you with? ** - Specific projects in any of my areas of knowledge (see below) - General advice on software principles and writing beautiful code - General advice on software design, in particular, service-oriented architectures - General advice on API design, in particular, RESTful API's - Long-term mentoring, i.e. long-term projects - Career advice ** Are there any requests I would not accept? ** - Projects that are unethical to me or completely go against my personal values - Homework, I will not do your homework (I have my own!) and they are for you to learn - Requests of the "please write the code and then explain it" type ** What is my availability? ** I live in Seattle so my timezone is Pacific Time. I work full-time normally from 10:00 am to 7:00 pm (ish). So, I will mostly be available for sessions during the nights and weekends, if I don't have a school project to do or an exam to study for. That is my rough schedule, but ultimately, we would need to coordinate to see what time works best for you and me. ** Do I offer any kind of special sessions? ** I offer the first 15 minutes free for new Codementor members, but I am also willing to offer a free 1 hour session for you to see if we are a good fit or not. All I ask in return is an honest review. ** Sounds great, how do I contact you? ** For any questions regarding a potential mentoring session, you can shoot me a message here, and I will try to get back to you as soon as possible (depending on timezone, etc.) I look forward to helping you grow and achieve your goals!
Pacific Time (US & Canada) (-08:00)
Spanish, English
Throughout my career I have focused on improving the quality of my code with special care on cleanliness, the use of appropriate design patterns and refactoring techniques; as well as, other protocol-specific best practices like REST API's.
Java is my preferred language and the one I extenively use at my current job.
Python is my second favorite language. I particularly use it for personal projects involving AI, ML and Big Data.
I have been independently studying AI since 2014. I am currently pursuing a Masters in CS with Specialization in AI and Machine Learning at Georgia Tech.
I have been independently studying ML since 2014. I am currently pursuing a Masters in CS with Specialization in AI and Machine Learning at Georgia Tech. I am particularly interested in Reinforcement Learning.
I have been developing web applications and hybrid mobile applications both for personal and professional projects for some time now.
Average Rating
5.0
(1 rating)
Great insight. I really appreciate the thought process and direction.