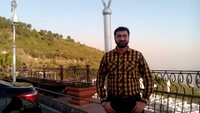 Rehman Gull
Expert MVC and AngularJS Developer
$10.00
For every 15 minutes
Github repositories
RESTfulAPINodeMongoTutorial
RESTful Tutorial with Node Js and Mongo db
DotNetCoreApp
.Net Core MVC App for Real State
Average Rating
5.0
(17 ratings)
Excellent session with typescript, teacher managed to do very complex code by head, very impressed!
Great session with Angular 2 and Material Controls, learned so much this time!
He did great at solving my Angular problem! It was a pleasure working with him.
Excellent mentor, always available to help you, even for smaller problems.
Rehman helped me with a relatively complicated issue I had which involved C# and Linq in a .NET ASP, MVC 5 Application. I'd been struggling for a day on the issue (4+ hours) prior to the session with him, and he had it solved pretty fast. Thanks Rehman.
Rehman, helped me with the proper usage for AutoMapper and we dealt with a many to many linq call that got the necessary data out of that relationship for use in a DevExpress GridView. Thank you!
Excellent mentor! will solve any Angularjs 2 question easily and quickly!
Great timely and helpful guidance through the problem.
Excellent session with Rehman, I'm leaning a lot with short sessions mostly with Angularjs 2 forms and Material, he has a lot of experience and solves anything I got stuck with. Thank you.
VIEW MORE REVIEWS