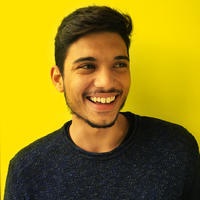 Rafael Fragoso
Full-Stack Software Developer at Globo.com
$15.00
For every 15 minutes
Always curious, I began my study of the web and other technologies when I was 13 years old. I also love the psychology field and how it fits perfectly into creating products. I'm always looking to use the new market trends, and, to keep me updated, I give speeches, write blog on subjects I'm studying, attend to conferences and I'm always trying to teach what I learn. I also have another blog called Nômade na Web, where I write about working remotely, digital nomads, life experience and productivity.
Github repositories
express-modular-bootstrap
Express Modular Application Bootstrap
php-haversine-formula
This PHP class can replace the Google Distance Matrix to calculate the distance between two points using latitude and longitude. It will prevent you to do massive requests to Google servers and enhance your service performance.