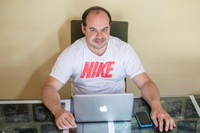 Pedro Paulo Jr
Very seasoned developer with an eye for business efficiency and problem solving
$30.00
For every 15 minutes
I'm a Computer Engineer with a MsC in Computer Graphics and Signal Processing and a PhD in Medicine, that combination might seem odd but it has been a long journey from Engineering to Medicine and back to Engineering (with a foot still in Medicine). I have 20 years experience with Programming and Development. My main talent is to solve problems. Debugging a hard to find bug? Yes, that's what I like! You have a complicated problem you don't even know how to begin? I like it!
I have a PhD in which I designed an algorithm to detect Alzheimer's Disease patients based on their volumetric MRI data. I used primarily Support Vector Machines. Also used SVM to train a number of computer vision solutions.
One of the things I excel is offering to people a different perspective on their problems and most of the time solving them.
Over the years I hired and trained dozens of people. Most of them are in very good positions now and it's one of the things I'm most proud of as a professional. We can be excellent developers, awesome data scientists but if we mentor someone and make them better than us, that's the ultimate achievement.
Github repositories
PPJEmailPicker
An UITextField replacement to select multiple e-mails
NFBeeminderHelper
Helper Class to Integrate Beeminder in any iOS App
Sometimes you need to take your code to a deep dark forest where 2 + 2 = 5
In order to write efficient code sometimes you must break some rules :)
Average Rating
5.0
(2 ratings)
Excellent mentor, he solved my problem and explain what was going on. I will recommend him 100%