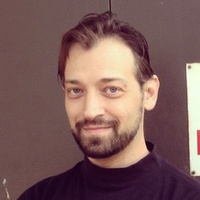 Paul Jacobs
iOS Developer / Mentor, Perl Developer
For every 15 minutes
Software designer & developer for perl, iOS, MacOS X, and interactive media platforms. Solid artistic and technical skill with a good feel for user experience and human / computer interaction. Specialization in virtual reality, computer art, artificial intelligence systems. I am looking for a position with an innovative and inspiring company that builds systems meant to be loved by their users. I excel working with intellectually and creatively stimulating systems involving computer-generated art, general product development, and research projects. I particularly enjoy working with voice recognition and response algorithms, AI, robotics, game design and development, teaching and mentoring others, and building / supporting a team.
I've been a published iOS developer since Oct 2008, and have been working with the NextStep/Cocoa libraries and ObjectiveC since 2001, and Swift since 2014. I have been an online mentor for Bloc.io for ~2.5 years, having started in Aug 2015 and have had many positive reviews. Several of my former students have published apps developed as capstone projects, with me helping guide through the process of going from idea to finished App (ex: Candidate Clash - https://itunes.apple.com/us/app/candidate-clash-hillary-vs./id1078099338?mt=8 - I'm mentioned on the Credits screen). I'm easy to get along with, I get to the point and help my clients maintain a strong focus on achieving results.
Perl
- 17 years experience
Perl has been my go-to language to build new (non-iOS) software and glue pieces of technology together from disparate domains for nearly two decades. I was a founding member of ThousandOaks.pm, and still attend occasionally. I personally developed course materials (focused on back-end development using perl, ui design, and a bit of photoshop) and then taught the first web development class available at UCSB, back in 1999 while still an undergraduate. I also helped man the booth for SoCal PerlMongers at the 2017 SoCal Linux Expo in March, helping to expand the perl community. If you haven't tried programming in Perl, you should give it a try, it's a wonderful language to work with.
Average Rating
5.0
(1 rating)
Paul helped me throughout this whole project and it has been nothing by a great experience. He loves coding and enjoys it, so its always great to have someone love what they are doing especially when they are mentoring you. Definitely reach out for him if you need help. He deserves 10/5 stars not just 5/5. Perfect with communication, step by step mentoring, patience, friendly, and a great programmer -- wonderful experience overall. You are in the right place.