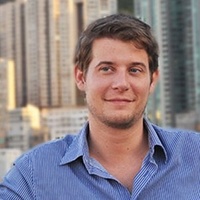 Patrick Kosterman
Full Stack Developer: Ready to aid and abet the self-proclaimed geek.
$15.00
For every 15 minutes
Since the impressionable age of 12 years old, I've been excitedly coding and eagerly solving problems - tech and otherwise. To this day, I more than welcome the supposedly unsolvable and the utmost challenging. I pride myself on my love of learning and desire to expand and further my knowledge on tech topics, and hope this energy is something I can share in influencing others. I am a full stack developer (15+ years experience), with strong knowledge & passion for Golang, AngularJs, CouchDB, AWS and your good old fashioned HTML/CSS. At PassKit, I head up our Engineering team, and am responsible for leading our Enterprise Client integrations. It's my job to make it a piece.of.cake. for other techies, marketeers and companies to get their content into the exciting space that is Mobile Wallet and ultimately, deliver magical user-experiences to their customers. Besides my love for tech - I am an avid traveler, lover of all things food, and lead guitarist in Hong Kong's biggest and baddest rock band, Bueller.