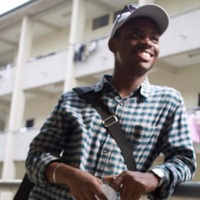 Olayinka Omole
Full stack PHP, JavaScript and Python Developer.
$15.00
For every 15 minutes
I am a full stack web developer with ~5 years experience shipping products built with PHP, JavaScript and Python. I enjoy learning new things and breaking down complex problems. I also write about technology a lot and publish on various blogs. I have co-founded a couple of startups, and currently work at the largest online hotel booking agency in Nigeria.
Github repositories
nuxt-ssr-blog
Serverless static-generated Nuxt.js Universal JavaScript web application. Demo app, accompanying the SitePoint article.
vuejs-news
Single page app that pulls in news from NYTimes
Average Rating
5.0
(3 ratings)
Olayinka is the Yoda of Vue js. He teaches in away so that you can understand, he would then ask me questions so that I can demonstrate that I am learning the concepts.
He is awesome, has lots of patience and helped me two days in a row with a project. Recommend!
Olayinka has a wealth of knowledge and he his one of the best mentors I've worked with. He explains things to you and makes sure you understand them so you can learn how to fix issues in the future. He is also very patient.
He is great and paitent. Explains everything clearly.
Understand Laravel and is able to explain things clearly. Super helpful and patient.