How to Get a Remote Developer Job and Become a Digital Nomad

Remote work is now a commonly accepted part of many industries, particularly tech, where most companies allow employees to work from home sometimes, or for extended periods, while traveling. Digital nomads are people who take remote work to the extreme.
While some people work from home full-time, digital nomads work remotely full-time while living in a variety of locations. The archetypal digital nomad is a globetrotter, spending a month in Chiang Mai, a month in Amsterdam, and then a month in Prague — traveling to exotic locations on a whim. For many digital nomads, however, the change of scenery isn't so extreme. Here are a few lifestyles the term 'digital nomad' can include:
A family that travels across the country in a camper van while both parents work remotely via satellite internet and/or free library/cafe W.
A couple that works from home half the time and rents out their place on Airbnb the rest of the time, while working from a lakeside cottage in another state.
The perpetual backpacker working remotely while changing hostels and locations every few days.
The digital nomad who travels slowly, staying in each location for three to six months and joining local co-working spaces in each city.
There are as many possible lifestyles as there are digital nomads. The common thread among them is the ability to earn an income while living away from home, in a way that isn't limited to the two or four weeks per year of annual leave that most full-time workers receive.
This allows digital nomads to be away from home for much longer periods than most people, unlocking the ability to travel for lengths of time that were previously only accessible to wealthy retirees who didn't need to worry about income or work.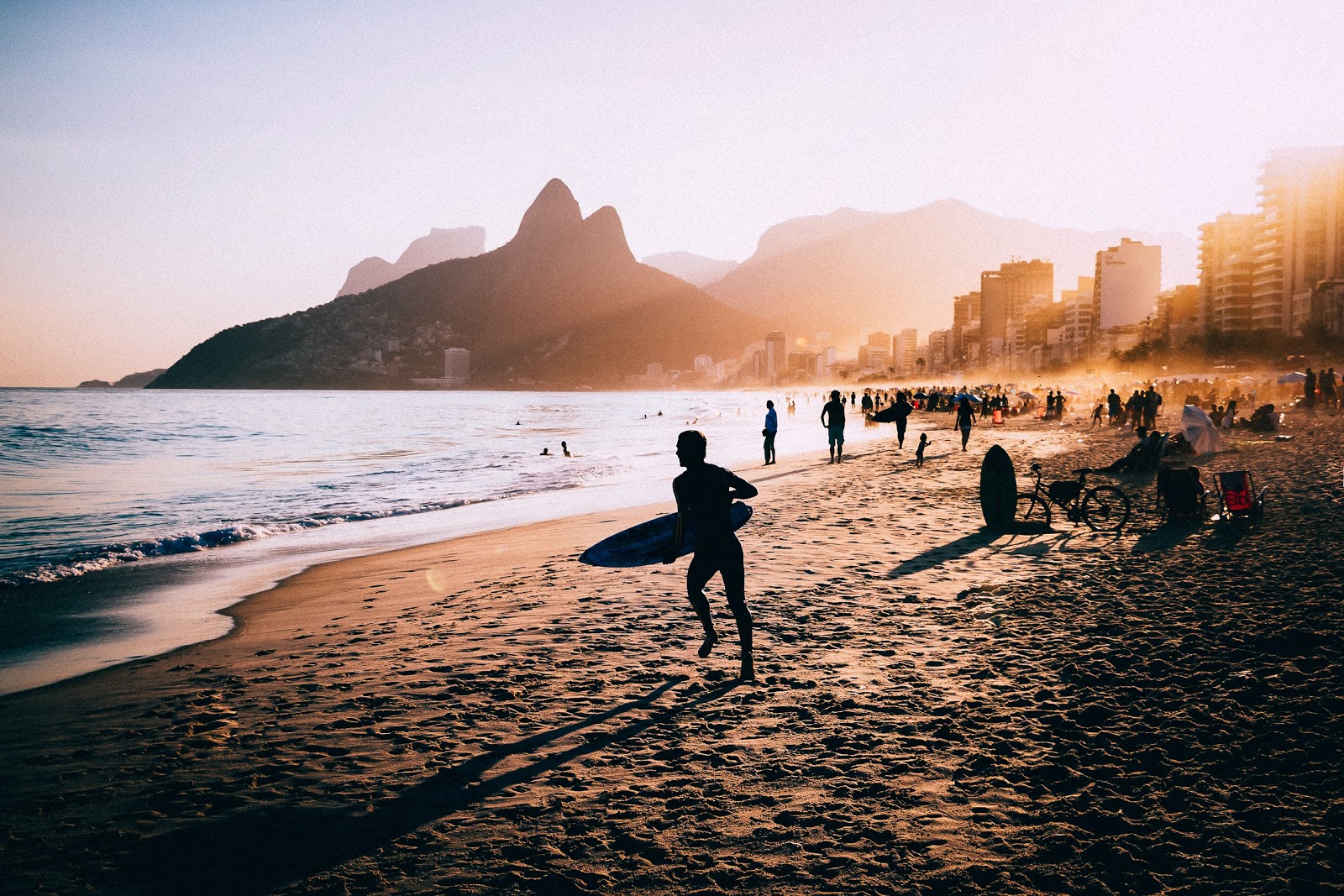 Surfing in Ipanema, Brazil. Photo by AQUACHARA on Unsplash
Developers are particularly well-suited to becoming digital nomads. All we need to do our jobs is a laptop and an internet connection. A few recent changes to the way developers work has made remote work easier than ever before:
Chat tools like Slack and video conferencing tools like Google Meet have finally met their full potential, providing slick and reliable communication options.
Developers are increasingly working in cloud native environments that don't discriminate between SSH access from the company's main office and access from a public library in Hanoi, Vietnam. This freedom also poses some security challenges that we will address later on.
Slack integrations like Screen Hero allow two remote developers to work together like they're at the same desk.
Laptops are more compact and powerful than ever before, allowing developers to work effectively on laptops small and light enough to fit inside a daypack.
Free and fast internet is now available everywhere, from cafes to libraries to co-working spaces, in cities all across the world. Some cities even have free Wifi throughout city limits.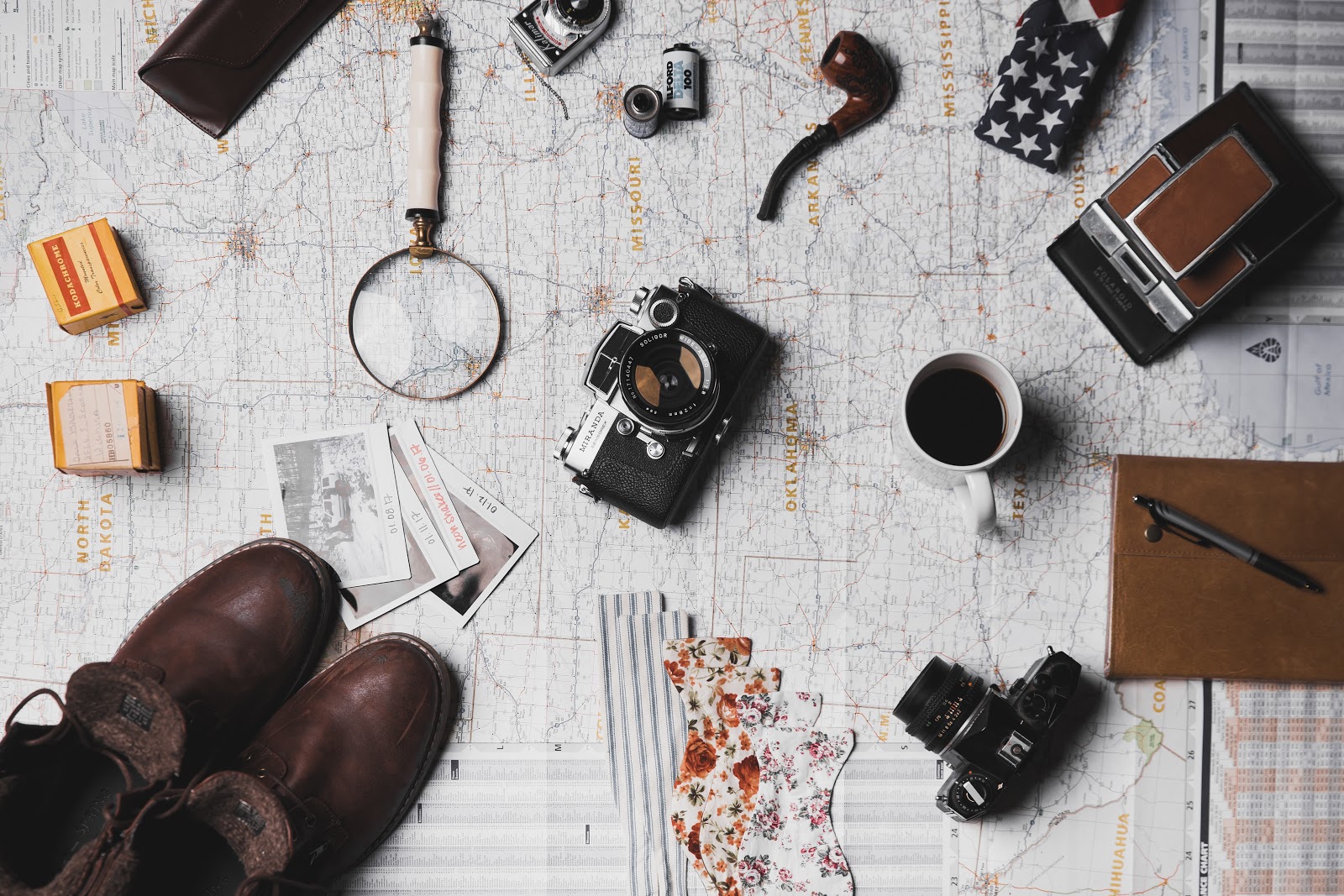 Camera, coffee, notepad, hiking boots… and a map. Photo by ian dooley on Unsplash
If you're a software developer, there's no better time to consider becoming a digital nomad. There is no one single way to be a digital nomad. Whether you're excited by the prospect of sampling the best of Europe's nightlife or living and working at the footstep of Mt. Kinabalu in Borneo — a place full of botanical and ecological wonders — becoming a digital nomad can place your unique dreams within reach.
Let's start exploring how to make the transition.
Becoming a Digital Nomad
There are three main options for becoming a digital nomad as a software developer.
Get a fully remote developer job
I believe that in the next few years more tech companies will open up hiring for developer roles globally. At the moment, however, most remote developer roles are offered to candidates nation-wide, but not internationally — there's still a concern about misaligned time zones affecting productivity and collaboration. I think eventually work will become more asynchronous, but right now, synchronicity still rules.
If your dream is to work remotely, in a place where there isn't a lot of time zone overlap with the rest of the world (e.g. where I live, Australia), it may be challenging to maintain normal 9 - 5 working hours. A friend of mine working remotely in Australia, for an American company, essentially had to work night shifts in order to overlap with U.S. business hours. In short, as a digital nomad, working full-time for a company based elsewhere, time zones will become profoundly important in your life, and may shape where you choose to work.
The two most popular places to find full-time developer roles are RemoteOK and WeWorkRemotely. While applying for these jobs isn't too different from applying for traditional co-located developer roles, the biggest change is the amount of competition you're likely to face. Instead of competing against just developers in your own city, you may be competing with developers from around the world. Demand also often outstrips supply for remote roles, compared to traditional co-located developer roles, where non-AAA companies often struggle to hire the developers they need. In short, competition is likely to be tough, so you'll need to bring your A-game.
Go freelance
One of the most popular options for becoming a digital nomad is to go freelance. Since you get to decide when and how you're going to work as a freelancer, you're less likely to have to stick to strict time zones and business hours. You can also better control the cadence of your work, taking on more jobs when you're settled and have a good working environment (e.g. a coworking space in Cape Town) versus taking on fewer jobs when you're focused on hiking to the Everest Base Camp, for example. The flexibility of freelance work can be a good fit if you're likely to be a fast-moving digital nomad, traveling quickly between multiple locations.
The challenging part about freelancing is potentially dealing with clients across many different time-zones. You may find yourself occasionally having to field client calls at 3 AM, or working in the wee hours of the morning to meet a deadline. With ultimate flexibility comes some degree of instability, and one of your biggest challenges may be maintaining a consistent sleep cycle.
I would recommend that most people build up a freelance client-base while they're settled at home, prior to becoming a digital nomad. Some people try to do both, taking the leap to go freelance at the same time they move to a foreign country without a support network. In my opinion, taking on two difficult challenges at the same time is quite risky.
If you're totally new to freelancing you can read this article on How to Launch Your Career and Land Your First Client as a Freelance Developer. You could also look at dipping your toes into the world of freelancing by becoming a Codementor or applying as a developer on CodementorX.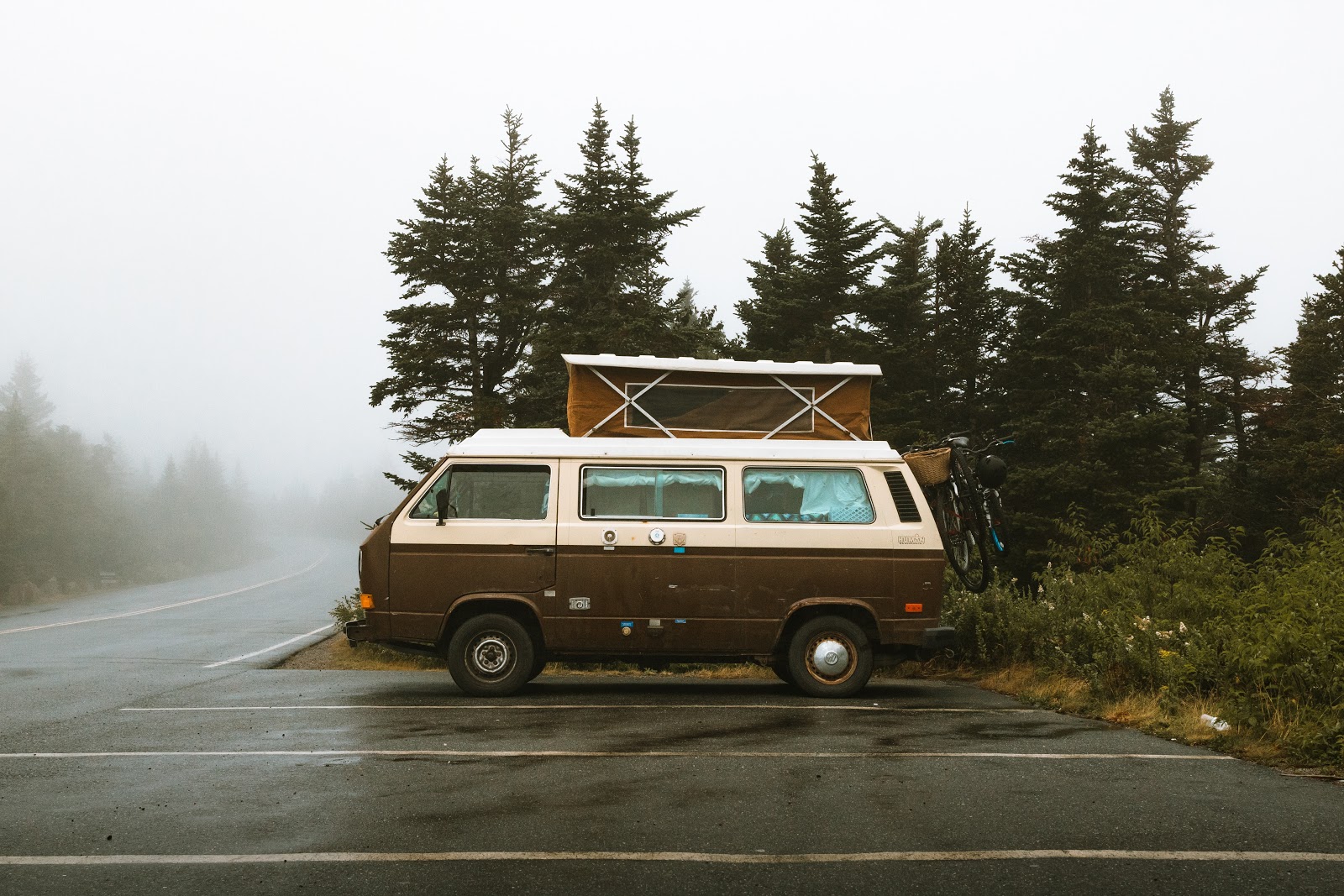 Could this camper van be a remote office? Photo by Alex Iby on Unsplash
Start a business
The Holy Grail for many software developers is starting a software business. Ideally, the business supports the developer and only requires a few hours per week of maintenance, freeing up the rest of the time for travel and adventure. This was the path charted by Tyler Tringas when he created StoreMapper while living as a digital nomad.
The idea for the business was inspired by many of his freelance clients asking him to implement essentially the same thing: an embeddable map of store locations. Tringas decided to turn this into a SaaS (Software as a Service) product and bill clients monthly to use his store mapper widget. Though Tringas recently sold StoreMapper, for a while, it operated as a true lifestyle business, supporting his travels and requiring only a few hours of maintenance per week.
Another growing trend is for budding entrepreneurs to save up a nest egg and move somewhere with good internet and a very low cost of living, such as Denpasar, Bali. According to NomadList, the cost of living for a digital nomad in Denpasar is approximately $485 a month. With $10,000 in savings, you could live in Denpasar for 20 months while starting and testing various business ideas. In reality, visas would force you to move to another location every three months or so, but you could hop between similarly low cost of living locations.
Overcoming Challenges
Being a digital nomad often looks, on the outside, like a very glamorous lifestyle. At times, it can be. However, being a digital nomad comes with just as many challenges as commuting to work in peak-hour traffic. Here's how to minimize some of the more challenging aspects of being a digital nomad.
Practice slow travel
There's no recipe for stress quite like juggling travel to 3 cities in seven days with a full-time work schedule or a full roster of freelance clients. Many people try to apply their old travel habits, acquired on Contiki Tours and whirlwind honeymoons, to their life as a digital nomad. Working while traveling is a very different experience. Instead of having 12 hours a day to see the sights in a city, you may only have two or three. After a long day working, some nights you're likely to want to stay in, stepping out only to get dinner at the restaurant downstairs.
In short, your travel pace as a digital nomad will need to be slower than usual. Where you might have allowed three days in a particular city while backpacking across Asia, you'll now need to allow at least one to two weeks. This will give you time to get settled, ensure you've got access to good, stable internet, and to see the sights, while also meeting all of your responsibilities at work.
Many digital nomads travel even more slowly than this, staying in each location for several months at a time, or using a particular location as a 'home base' from which to explore the surrounding cities and countryside on weekends. One other reason I prefer slow travel is that it has a much lighter impact on the environment than traveling at a frenetic pace.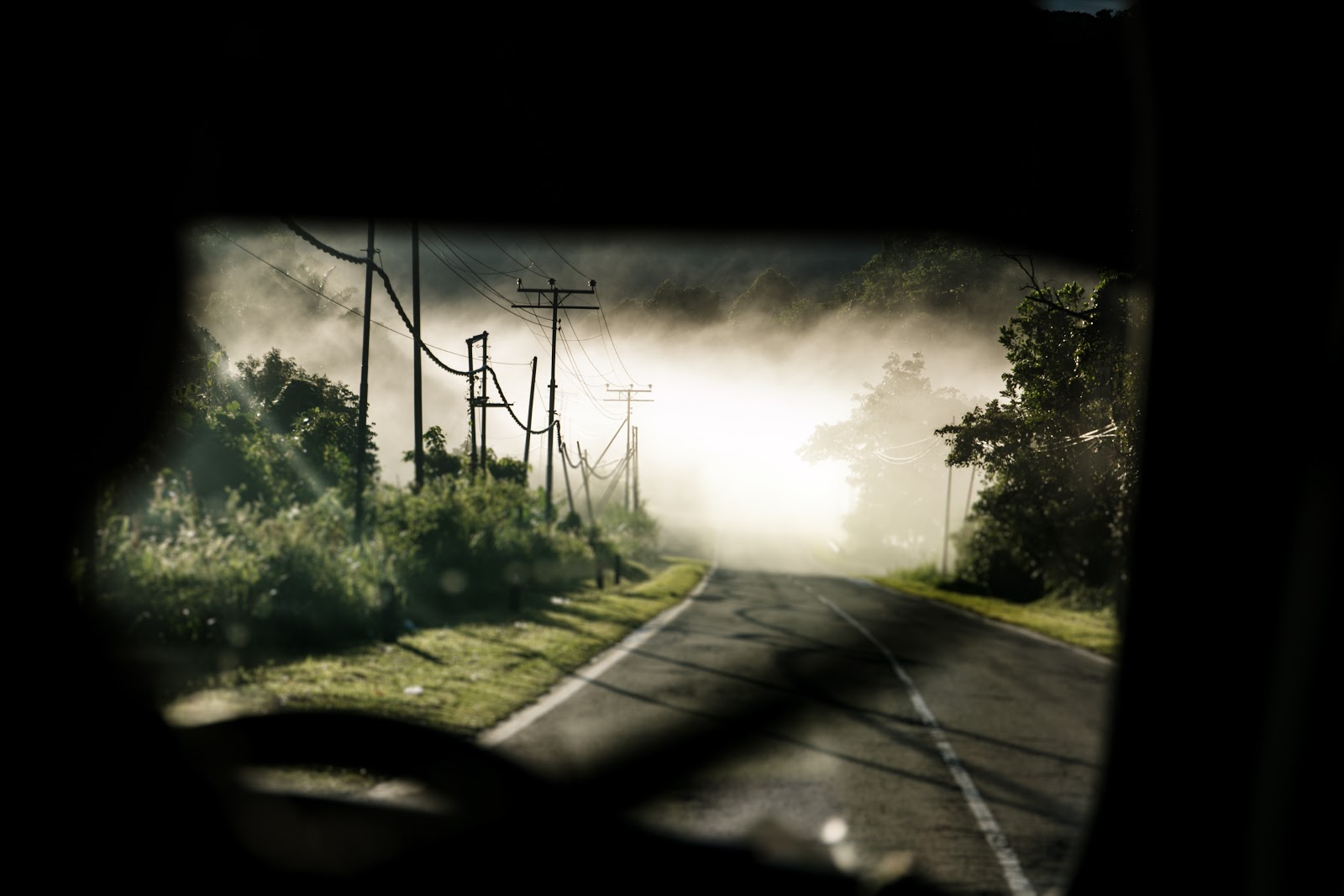 Kundasang, Malaysia. Photo by Makarios Tang on Unsplash
Be prepared for worst case scenarios
One trend I've noticed in the digital nomad community is people, like this man, who've had their work tools stolen while traveling and working as a digital nomad. Without insurance or savings, they're forced to try to raise funds to replace the stolen items. The hardest part is that they've lost the tools they need to generate new income, and so are unable to earn the money they'd need to replace what they've lost.
I think it's a terrible mistake to be a digital nomad without the means to quickly and easily replace a stolen laptop. Your laptop is your livelihood. While the price-tag might be, say $1,799, your laptop is actually worth much, much more: it represents thousands of dollars of potential income. If you're unable to maintain a savings account with enough money to replace a stolen laptop, then you must have adequate insurance. Most long-term travelers will have a valuable item stolen at some point. Being adequately prepared will help you take it in stride.
Always have a backup option
The most successful digital nomads always have a backup plan. If the internet at the hostel is bad, they know they can go to a Wifi cafe down the street. If their visa isn't approved for their first choice country, they know they can quickly get a visa for country number two. Travel is really one big test of your backup plan making skills, and being a digital nomad is no different.
Don't spend your safety net
Always keep enough money in savings to buy a ticket to a safe place. This will protect you from a bunch of worst case scenarios: losing your job, freelance gigs drying up, sickness, or visa woes. You should be able to afford a ticket to take you to a 'safe harbor,' whether that's home, your parent's place, or the place of a trusted friend or family member. If you don't have a 'safe harbor,' you can still become a digital nomad. You will, however, need a larger safety net to protect you if a worst case scenario arises.
Create a comfortable working environment
Digital nomads will often find themselves hunched over a small laptop, sitting on a wooden stool, in a crowded cafe. While this can be a fun break from working in an office, your body can start to suffer when poor posture and uncomfortable chairs are the norm. Consider making a lightweight laptop stand, comfortable mouse, and a mousepad or wrist-rest part of your 'mobile office.' By raising the height of your screen, your laptop stand will help you maintain better posture. Your mouse and mousepad will also help reduce any wrist fatigue.
Stay connected to friends and family back home
When living the digital nomad lifestyle, it's easy to forget about life back home. You're surrounded by new friends and having amazing experiences. The lives of your friends and family can seem very distant and unrelatable.
However, remember that most likely you won't be a digital nomad forever. Most people will eventually take a break or settle down. Travel is tiring, and living away from the comforts of home is not a permanent step for everyone. When you come back home, what will you be returning to? If you've been careful to stay in touch with friends and family back home, your transition back to normality will be much easier.
Maintaining close connections with your friends and family can also help you deal with the isolation that is sometimes part of the digital nomad lifestyle. You may struggle to make friends in some cities, or find that a bout of illness keeps you stuck indoors, unable to meet people. A video call back home can mean so much in these circumstances.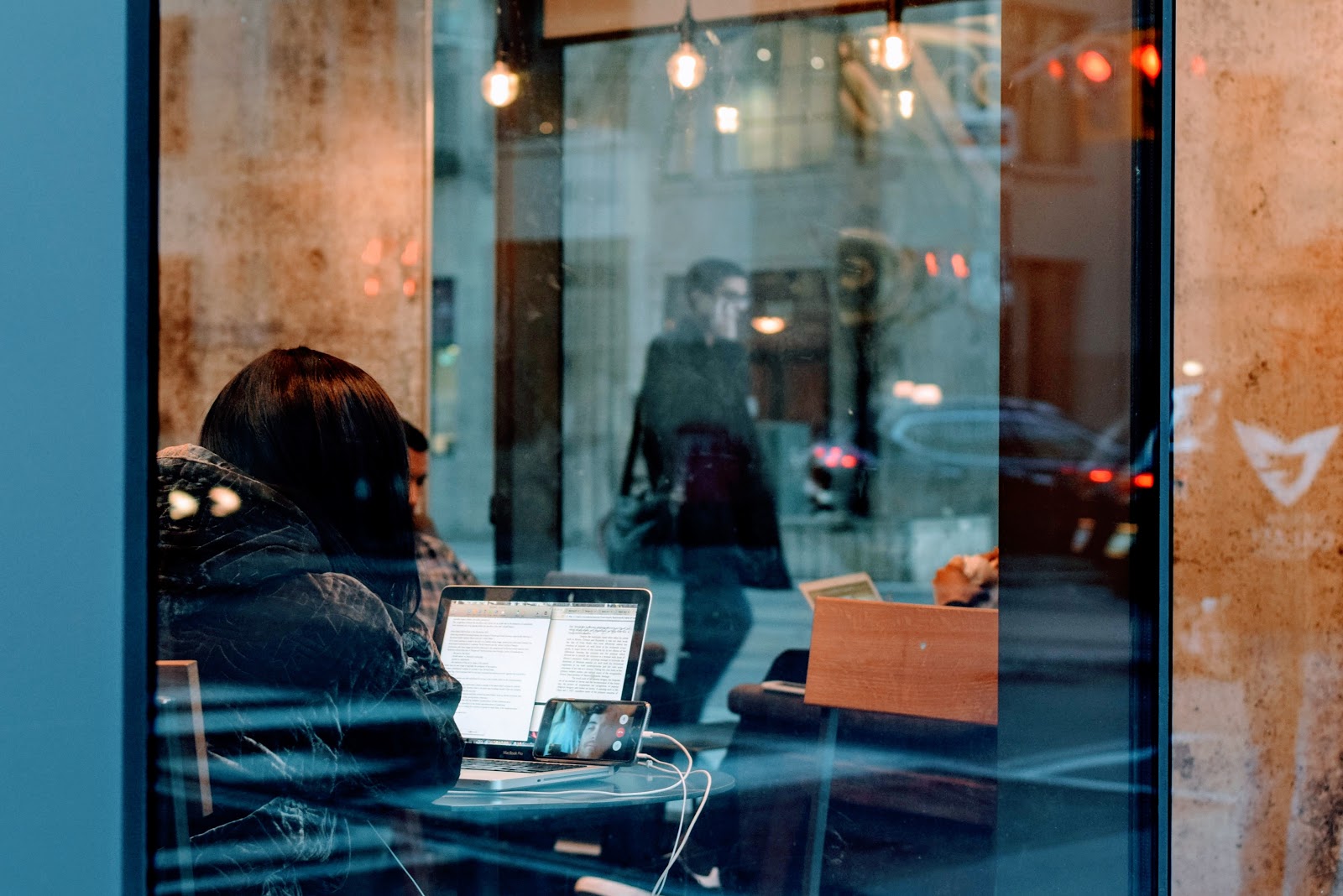 Staying connected. Photo by Tim Gouw on Unsplash
Travel Checklist
Here are some things to keep in mind when choosing locations to live and work as a digital nomad. You can get information about all of these factors on NomadList.
Cost of living
What's the cost of living? If it's much higher than your cost of living back home, you may struggle to make ends meet on your income as a digital nomad. If it's much cheaper, you may be able to save a considerable amount of money compared to living at home.
Internet
What's the availability and reliability of internet like? Are there plenty of Wifi cafes, libraries, and co-working spaces you can use, if necessary?
Networking and industry
Is there a strong developer community where you're traveling? For example, if you're a Python developer, does the city have a Python meetup? Industry meetups and networking can be a good way to meet people while working as a digital nomad.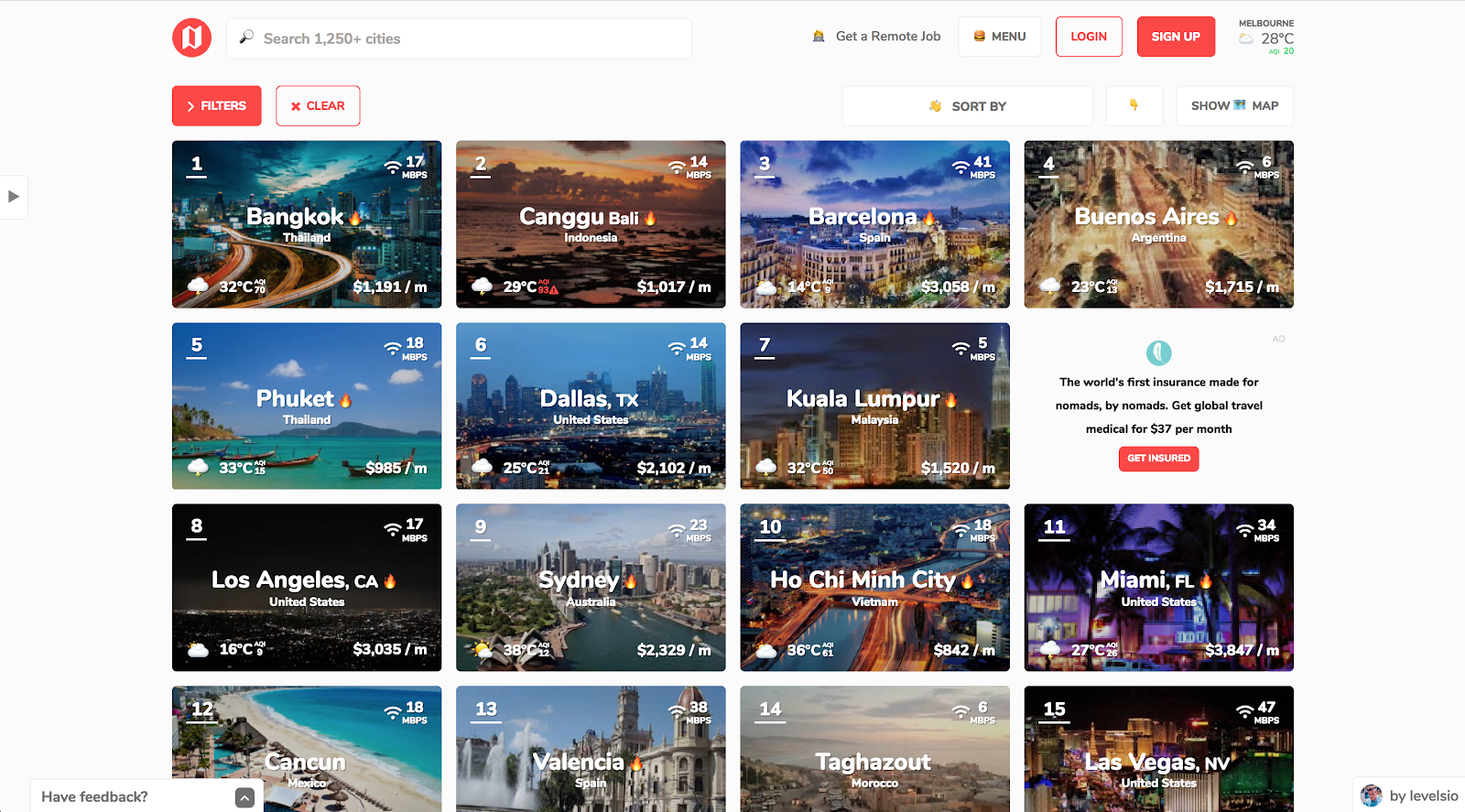 NomadList can help you plan your itinerary as a digital nomad.
A Note on Security
As a developer, one additional consideration you may have while traveling as a digital nomad is security. If a person with high technical literacy stole your laptop, what might they be able to do or access? Having your laptop stolen is bad enough, but knowing that your laptop contains an unencrypted, unprotected copy of your company's production database is likely to make the experience much worse!
This article recommends several ways to keep remote development environments secure, including using two-factor auth on everything, full disk encryption, using a VPN, and strong passwords. It's worth reading and implementing these steps before traveling with your work laptop as a developer.
Final Thoughts
Working as a digital nomad can be a life-changing experience for many developers, and it will become more common in the future as the nature of work becomes more asynchronous.
If you're already living and working as a digital nomad, what tips would you share for other developers looking to make the leap?