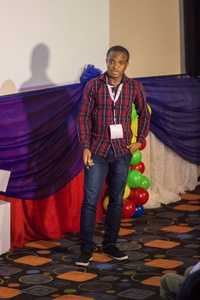 Nosakhare Belvi
Making things work ... and work well. Software Developer.
For every 15 minutes
Nosakhare Belvi is a software developer that is fascinated by how things work. He loves reaching out to people and sharing things he is able to learn on his own. A big fan of open source project and community contribution, looking into ways everyday tools can be used to help achieve unbelievable task in day to day living.
Github repositories
MobileVisionBarcodeScanner
Barcode Scanner powered by Mobile Vision Api
Luhn
Smooth UI for Credit Card Entry on Android device, perform check for supported credit card types , pan length and luhn check. Inspired by Uber credit card entry interface
Average Rating
5.0
(2 ratings)
Extremely helpful and friendly and patient, understood and learned more than I knew previously.