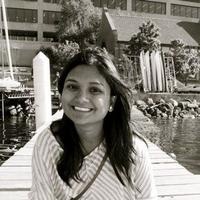 Nisha Kiran
For every 15 minutes
I have been mentoring students for a while. Currently I am passionate about coaching students for technical coding interviews. I have started posting some videos online tailored for this purpose. Do check it out https://youtu.be/a8LICNyNCpM and get in touch if you would like a session with me.
3
C
I am comfortable debugging large amounts of code written in python.I am also very comfortable working with beginners in python programming and can guide them properly while learning this language.
I am comfortable working with beginners and guiding them through solutions whenever they are stuck.
Have been working with Perl for a while and can help code and debug Perl related tasks.
Average Rating
5.0
(19 ratings)
Really good help all the problems that i hade got solved.
Nisha was very helpful and patient with me as I am useless at coding! I have no complaints and she answered every question I had to ask. Very friendly person to speak to and I fully enjoyed the session. Thanks Nisha :-D.
Superb explanation! She's very knowledgeable and delivers before deadlines.
Total perfection she was. She went above and beyond. Exceptional tutor. She offered to explain further if I had any questions. Also, the assignment was completed way before the deadline. She is very prompt, very qualified in her expertise, very sweet, and genuinely goes out her way to make sure you understand. :)
Nothing beats her! Absolutely fantastic and does what she promises. Her logic and way of explaining problems is so simple and easy to understand. I would definitely rate her 10 stars If I had the option and recommend her to others. <3
absolutely loved her and her sense of logic!
Excellent again. I will continue to use Nisha when I need help.
Excellent. Very responsive and was able to help me resolve a tricky algorithm
Really knew what she was doing and completed it very quickly
VIEW MORE REVIEWS