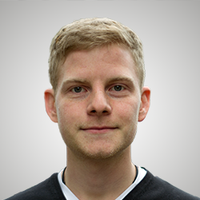 Nils Solanki
Front-end developer with a passion for excellent user experience
$30.00
For every 15 minutes
I work as a front-end developer at a Zurich-based agency and tutor students in web technologies at the university of applied sciences HTW Chur in Switzerland. My product experience ranges from simple single pagers to complex web applications. Equipped with curiosity, flexibility and an open ear, I'll help you solve your front-end problems.
I have known the basics of the language almost for as long as HTML and CSS, and in the last years I got to delve into the core of the language. With the emergence of MV* frameworks, first backbone.js and now more recently vue.js have become my tools of choice.
When I first time came into contact with HTML table layouts were still standard and CSS was gradually emerging onto the open web, roughly 13 years ago. I started working in the web domain professionally 6 years ago, gradually moving from smaller CMS projects to rich web applications. These days I mostly work with plain HTML, Sass and a number of frameworks (experienced with less/bootstrap stacks as well).
The foundation of my UI Design understanding stems from my Interaction Design studies. Building on this, I got to work with a variety of clients on web projects over the last few years as a freelancer.
Average Rating
5.0
(8 ratings)
Very happy with the help I have had to date from Nils. We have had about 4 sessions now and covering advanced topics on a real world solution.
3rd session with Nils. Very happy with the progress. Thanks
This was the 2nd session I have had with Nils. He is very knowledgeable on Vue.JS and WebPack and a skilled tutor.
Nils was a great help with my WebPack & VueJS setup, troubleshooting and giving future direction. Thank you.
Awesome Mentor, Helped Me with my styling issues, listened carefully and taught me well
Nils was very helpful. Not only he got me started, but he also gave me a lot of tips and tricks to improve my workflow, plus gave me ressources to learn more. He even paused the session to show me additional stuff.