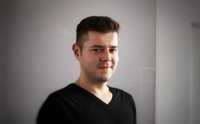 Nikolay Derkach
Full Stack Generalist (iOS/Backend)
For every 15 minutes
I'm a software engineering generalist with a focus on the product. I worked extensively on building iOS apps full-stack, helping clients with product strategy and advising on UX design. My passion is to work with startups to help them bring the first iteration of the product to the market.
I've been building iOS apps from scratch as well as mantaining existing mixed code (Objective-C + Swift) codebases.
Worked on a real-time location sharing app full-stack (Swift+Objective-C and Node.js on the backend) Took over the existing legacy code base and almost completely revamped the front-end, as well as added new features including seamless location sharing and onboarding new users via SMS
Reverse-engineered popular mobile apps and websites unlocking access to private APIs Created software to automatically solve CAPTCHAs, bypass bot detection and fingerprinting Built a cluster of jailbroken iPhone devices to automatically intercept and decrypt APNS messages, and serve security tokens via an API
Github repositories
couchsurfing-python
Couchsurfing.com Python API
airbnb-python
A Python wrapper around the Airbnb API (unofficial)
How to build a GraphQL wrapper for a RESTful API in Python
Originally published at https://medium.com/@nderkach/how-to-build-a-graphql-wrapper-for-a-restful-api-in-python-b49767676630
Average Rating
5.0
(1 rating)
Nikolay was very friendly and professional. He solved my problem quickly and was able to explain his solution clearly. I would definitely work with him again.