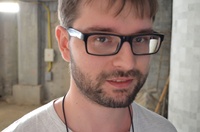 Pavel
$5.00
For every 15 minutes
I develop backend projects using Ruby and Scala/Java more then 5 years. Over the years I was engaged in gamedev projects, online shop, video shop, recommendation system using ML. I have a deep knowledge of these platforms and the ecosystem (often used libraries). Also I have goos experience with many database systems including PostgreSQL, MySQL, Elasticsearch, Redis, Cassandra.
Scala
- 3 years experience
I started using Scala in 2014. Before that I had developed a server using Ruby. The use of Scala allowed me to solve the problem of improved performance and service reliability: multithreading, asynchronous processing etc. Basically I'm using akka and akka.http. But I also have project that use Play. I developed processing service orders and service recommendations using Akka streams.
I developed the backend for a game projects using pure Ruby server with ActiveRecord for DB interaction since 2011. Later I worked on online shop using Ruby on Rails for site and Scala for search engine. I have used Sidekiq for background job processing, Capistrano for deployment and Chef for servers preparation and management.
Github repositories
TelegramAlarmCallback
Send graylog alerts to telegram using telegram-cli
tg_bot_for_wa
Telegram bot for WhatsApp API