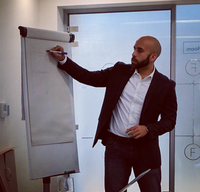 Nasser Al-Shawwa
Software Developer - Engineer
$10.00
For every 15 minutes
Finite element and structural analysis / design software development for solving large scale engineering problems, mainly using C++. Strong knowledge of graphics programming with modern OpenGL. Numerical methods for Civil Engineers using MATLAB, Python (Numpy, Scipy) Data Analysis using Python Experience with web-development using Django (Python), PHP and MySQL on Linux. Experience with C++ GUI frameworks Qt, wxWidgets and MFC.
I have been a C++ developer in the Engineering industry for over three years, in addition to working with it during my Masters degree. I'm interested in the evolution of the language, and have closely followed the standardization through to C++17 and the upcoming C++20 standard.
Python was one of the first programming languages I learned. I have a strong knowledge of the language and these days I mostly use it for automation at work, as well as for hobby projects. I am a regular attendee of PyCon UK.
Worked with updating and maintaining 3D graphics implementation of engineering modeling application, used both Fixed Function and Programmable pipelines.
General Structural Analysis - GSA
Modeling, Structural Analysis and Design Application