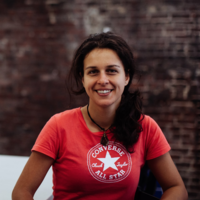 Monica Olinescu
$30.00
For every 15 minutes
A web developer with a passion for teaching. Senior Instructor at Lighthouse Labs. Founder of DesignDrop.io. I studied Computer Science at the University of Toronto and have been working as a professional programmer since 2005. My main technologies are Ruby/Rails and JavaScript/React/Node. I also grow orchids. :)
Average Rating
5.0
(6 ratings)
Monica was incredibly patient and absolutely awesome. She helped me solve my additional issue as well as another problem I'd been having!
Sharp, good communicator, good and quick developer!
Fast, helpful, nice, and easy to work with.
Monica does it again! She makes the impossible possible with code and teaches the most novice of people (me) and makes them (me) feel more confident in writing my own code. There's no doubt that she is worth every minute and every cent. She is worth her knowledge in diamonds by far! I recommend her goes without saying if you cannot tell.
Monica tried her best to review the problem.
First session was not only FUN but extremely informative. I can see why she made such a great teacher before. She spoke kindly and not over my head. Her flexibility to the software choices also makes her the best to pick from. I learned more in 1hr with her than I did in weeks with videos and books. I have her scheduled with me as much as possible and I suggest everyone else do the same. Thanks Teach!